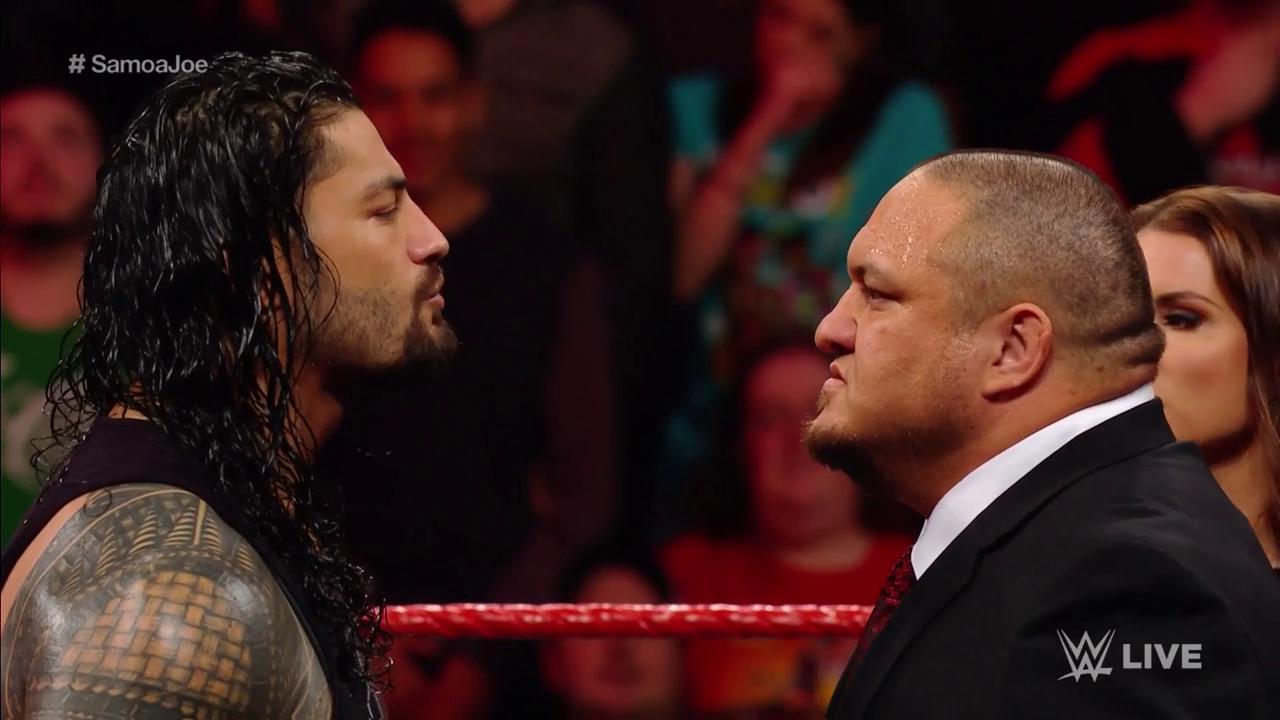 Raw inicia con el discurso de Triple H hacia Seth Rollins la semana pasada, y el posterior ataque de Samoa Joe.
Mick Foley y Stephanie McMahon están en el ring. Foley, demostrando su disgusto, presenta a Samoa Joe como el "agente libre más buscado", palabras que dice fueron sugeridas por Steph.
Samoa Joe ingresa al ring. Stephanie le da un abrazo a Joe, y lo presenta nuevamente, con mucho más entusiasmo que el demostrado por Foley. Mick quiere pasar directamente a la firma del contrato, pero Stephanie lo detiene y lo cuestiona. Foley responde que lo conoce de hace tiempo, pero no está de acuerdo con lo que hizo ni con la gente que se asoció. Samoa Joe toma la palabra, y le dice que hace 18 años lucha, pero solo un hombre le dio la oportunidad. "Mi lealtad a ese hombre me hizo venir aquí, y si para eso tengo que destruir a Seth Rollins y sacarlo de circulación, que así sea", declara Joe. Y amenaza a todo el roster, diciendo que acabará con todos, y cuando despierten, los volverá a golpear. "El destructor ha llegado, y no hay nada que puedas hacer al respecto", cierra Joe antes de firmar.
Roman Reigns sale y dice ser el hombre más duro en WWE y se encara con Joe. Mick los detiene, y dice que cada uno puede tener lealtad a un hombre, pero él es el General Manager y tiene lealtad al WWE Universe. "Yo hago los combates", grita Foley.
Roman Reigns vs. Samoa Joe, esta noche
.
- Bayley vs. Nia Jax
Bayley toma la iniciativa pero rápidamente el poder de Nia la supera. Gran Body Slam de Jax, que sonríe ante el dolor de su rival. Bayley logra responder y castiga con las cuerdas a Nia. La golpea repetidas veces contra el protector del esquinero, pero Jax reacciona con la misma acción pero mucho más fuerte. Nia sigue dominando con dureza después de los comerciales, pero Bayley resiste. En ringside, Nia se estrella contra el poste una vez, y Bayley la estrella de nuevo, dejándola maltrecha. Cuando la cuenta se acercaba a diez, Charlotte Flair aparece para distraer al árbitro y Bayley. La chica de los abrazos ataca a Charlotte y cuando se da vuelta recibe un Samoan Drop de Nia.
Nia Jax derrota a Bayley.
La próxima semana, Charlotte Flair defenderá su título ante Bayley.
Más tarde, Chris Jericho vs. Sami Zayn con el Campeonato de Estados Unidos en juego. Los Campeonatos de Parejas también estarán en juego, cuando Karl Anderson & Luke Gallows defiendan ante Cesaro & Sheamus.
Braun Strowman derrota a cuatro luchadores locales.
A pesar de la inferioridad numérica, BRAAAAAAAUN destruye sin piedad a sus rivales, haciendo que uno huya del ring y armando una pila con los otros para cubrirlos.
El gigante, furioso, grita que esto no es competencia y sale en busca de Mick Foley. Al encontrarlo en backstage, Foley le propone competencia de verdad:
enfrentar a Roman Reigns en Fastlane
.
Video presentando a Akira Tozawa.
- Akira Tozawa vs. Drew Gulak
Comienzo parejo pero con leve ventaja para Gulak. Akira pasa al ataque con duras patadas pero no consigue la cuenta. Drew lo saca del ring tras un cabezazo y una patada. Akira responde sacándolo luego del ring y volando en Suicide Dive hacia él. Dropkick a la rodilla y Shining Wizard para la cuenta de dos sobre Gulak. Drew logra evitar las patadas más duras de Tozawa pero cae ante un gran German Suplex.
Akira Tozawa derrota a Drew Gulak.
Chris Jericho y Kevin Owens salen al ring. Hablan un buen rato diciendo lo típico. Jericho comenta lo genial que sería enfrentar a Kevin Owens en Wrestlemania. Mejor amigo vs. mejor amigo, título vs. título, KO vs. Y2J. Owens dice que sería el mejor evento principal de Wrestlemania. "Pero no estoy seguro de poder enfrentar a mi mejor amigo..", decia KO cuando la música de Goldberg lo interrumpe.
Goldberg dice que la semana pasada Paul Heyman y Brock Lesnar lo retaron a un combate en Wrestlemania 33. "Nunca he sido de los que rechazan una pelea, así que Brock Lesnar, Orlando, Wrestlemania 33...ACEPTO", dice Goldberg y la gente ovaciona. KO aplaude y se alegra sarcásticamente. "¡Qué anuncio!", bromea el Campeón Universal. "Creo que aceptar el reto de Brock es una gran decisión. Lesnar vs. Goldberg será un gran match de la cartelera baja de KOMania 2", dice KO. "Chris, tienes razón, éste es el evento principal", dice señalándose a él y Jericho. Le pregunta a Bill si sabe porqué es el campeón más longevo. Goldberg responde que porque nunca lo enfrentó a él y lo reta a un combate titular en Fastlane. Jericho amenaza con ponerlo en la lista, pero el propio Goldberg se la saca y anota su nombre. Jericho se enfada y le dice que si quiere un combate en Fastlane lo tendrá...
Kevin Owens vs. Goldberg por el Campeonato Universal.
Kevin Owens y Chris Jericho discuten en backstage. KO le dice cómo le pudo hacer eso, pero Jericho se muestra confiado. Dice todo lo que ha hecho y todo lo que han pasado juntos. Pero Owens sigue furioso, y dice que aceptar un match contra ese demente no es cubrir su espalda.
- Campeonato de Parejas de Raw:
Karl Anderson & Luke Gallows (c) vs. Cesaro & Sheamus
Enzo Amore y Big Cass están en la mesa de comentaristas. Anderson y Sheamus inician la acción. Sheamus domina y da el relevo a Cesaro. Karl lo lleva a su esquina pero Cesaro responde y con Sheamus pasa a dominar a Gallows. Rolling Senton y Foot Stomp de los retadores para la cuenta de dos sobre Anderson. Superkick a Cesaro, que queda tendido en ringside antes de la pausa. Al volver, Karl ataca a Cesaro en el ring. Cesaro escapa de ambos oponentes y hace el tag. Sheamus ingresa con todo y destruye a Karl de esquina a esquina. Flying Clothesline y cuenta de dos. Golpes al pecho de Anderson y relevo para Cesaro. Luke evita la cuenta tras un movimiento conjunto sobre Karl. Uppercuts de Cesaro para sacar del ring a Luke. ¡Superkick de Gallows a Amore! Cass ataca a Gallows.
Karl Anderson & Luke Gallows derrotan a Cesaro & Sheamus por descalificación, reteniéndo los títulos.
- The New Day (Big E & Xavier Woods) vs. The Shining Stars
Big E y Woods inician dominando a Epico, hasta que Primo logra el relevo y ataca a Xavier. Gran Vertical Suplex de Epico sobre Woods y cuenta de dos. Continúa el dominio conjunto sobre Xavier. Missile Dropkick de Xavier y relevo en ambas esquinas. Belly to Belly Suplexes de E. Primo interviene y recibe un DDT. Midnight Hour y cuenta de tres.
The New Day derrotan a The Shining Stars.
Video homenaje a la carrera de The Rock 'N' Roll Express, quienes serán parte de Hall of Fame.
- Campeonato de Estados Unidos:
Chris Jericho (c) vs. Sami Zayn
Kevin Owens acompaña a su mejor amigo desde ringside. Sami domina con Arm Drags y busca sin éxito la cuenta. Jericho baja del ring para conversar con KO. Zayn sigue dominando el combate pero Jericho se vuelve a bajar del ring antes de una Helluva Kick. Sami vuela sobre Jericho en ringside. Después de comerciales, es Jericho quien tiene la ofensiva. Blue Thunder Bomb de Sami y cuenta de dos. Sami busca un DDT pero Jericho aplica sus Walls. Zayn busca refugio en las cuerdas, pero KO aprovecha la distracción del árbitro y le conecta una Superkick. cierra con un Codebreaker para la victoria.
Chris Jericho derrota a Sami Zayn para retener el título.
El médico atiende a Sasha Banks en backstage, y Charlotte aparece. Dice que hace algunos meses la gente las veía como iguales, pero ahora ella está defendiendo el título mientras Sasha se la pasa en rehabilitación. Dice que aplastará los sueños de Bayley de igual manera, y que Roadblock End of the Line resultó siendo el final de su carrera.
Austin Aries entrevista a Neville en el ring. Mañana, en 205 Live: TJ Perkins, Tony Nese, Cedric Alexander, Jack Gallagher y Noam Dar competirán para decidir el próximo retador al Campeonato de Peso Crucero en Fastlane. Neville dice que ninguno de ellos lo asusta. Cedric, Noam, Jack, Tony y TJP van interrumpiendo y entrando al ring. TJP recuerda que ya tuvo el título una vez, incluso fue el primer campeón. Dice tener asuntos pendientes con Neville, pero ahora, vino a hacer otra cosa. ¡Perkins ataca a Nese! ¡Estalla el caos entre todos! Gallagher es el último en pie ante Neville, a quien conecta Uppercuts y una Dropkick. Dar ataca desde ringside y comienzan los vuelos.
- Neville, Tony Nese & Noam Dar vs. TJ Perkins, Jack Gallagher & Cedric Alexander
Neville domina al caballero al inicio del combate. Dar y Nese se intercambian el dominio sobre Gallagher. Jack logra darle el relevo a TJP, quien carga contra Dar. Noam quiere hacer el tag con Neville, pero el campeón se baja del ring, toma su título y se va. Detonation Kick de Perkins, relevo para Alexander que conecta un Springboard Clothesline y el Lumbar Check para la victoria.
TJ Perkins, Jack Gallagher & Cedric Alexander derrotan a
Neville, Tony Nese & Noam Dar.
Roman Reigns va ingresando al ring...¡Samoa Joe lo ataca en la rampa! Samoa sigue atacando por ringside, estrellando a Roman contra la barricada y el ring. Samoa vuelve al ring dejando tirado a Reigns, pero vuelve a por él y prosigue con el brutal ataque. Al volver de la pausa, el combate inicia oficialmente.
Archivado en:: FREE, LIVE, MONDAY NIGHT RAW, RAW, Resultados, STREAM, STREAMING, UnitedState, Ver WWE Raw, WWE, WWE RAW