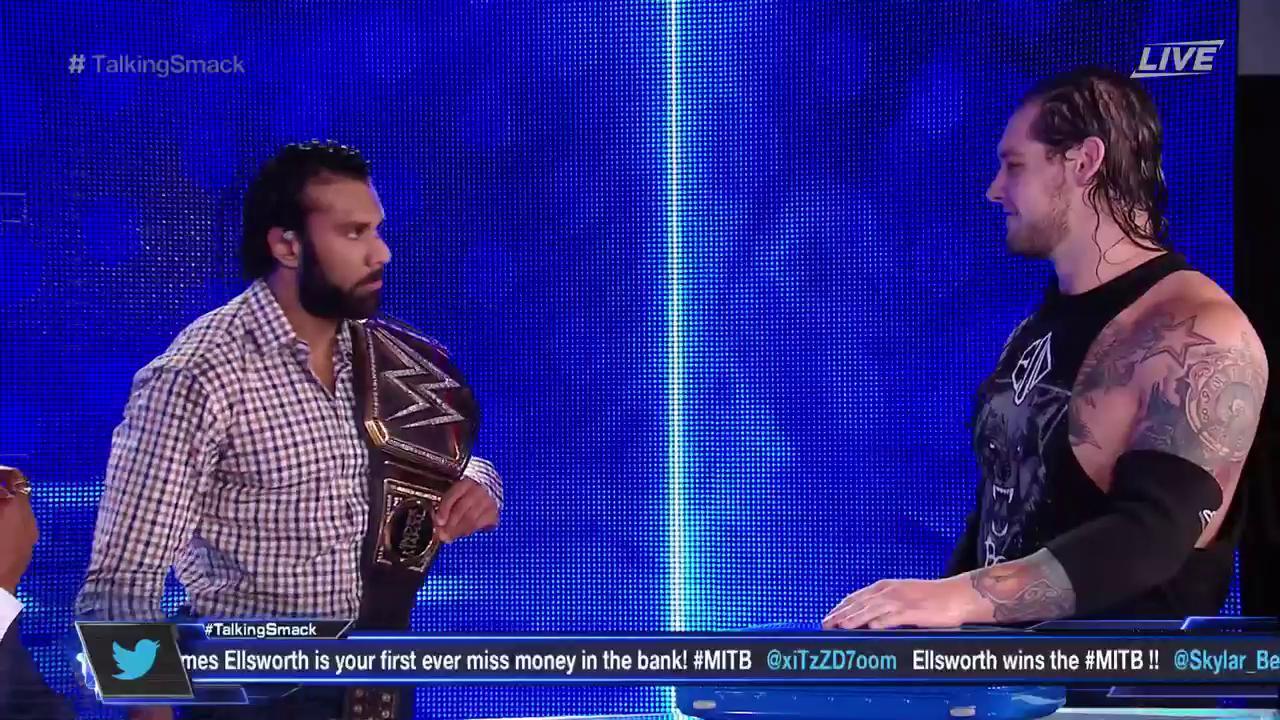 WWE Network emitió una nueva edición de Talking Smacken el que participaron varios de los protagonistas del show. Jinder Mahal el invitado estrella y habló de su defensa ante Randy Orton, pero también tuvimos a Naomi y Baron Corbin.


Precisamente, el ganador del maletín de
Money in The Bank
y el campeón mundial de WWE se cruzaron y tuvieron un intercambio de palabras. Antes de que eso ocurriera, Mahal habló de Corbin y lo comparó con Mojo Rawley por haber ganado el trofeo de
Andre The Giant
en Wrestlemania. Además, añadió que nadie está a su nivel y que hará lo posible para convertirse en el "mejor campeón de todos los tiempos". Mahal se despidió con un mensaje en Punjabi pero al marcharse se encontró con Baron Corbin, quien le advirtió que se verán pronto las caras.
Baron Corbin se sentó con Booker T y Renee Young, y habló largo y tendido de su victoria en el combate de escaleras. Corbin renegó de ser comparado como un "trabajador", porque todo el mundo que tiene ese adjetivo no tiene un talento innato. Booker T le preguntó acerca del ataque a
Shinsuke Nakamura
antes de comenzar el combate y Corbin respondió que se trataba de un problema de tiempo: "No estoy aquí para gastar el tiempo, tengo poco, y lo que hice es interrumpir una entrada de 4 minutos de duración...creo que todo el mundo me lo agradeció después". Booker T le siguió la corriente y se alegró de sus habilidades para conseguir sus objetivos.
Corbin insinuó que podría usar el maletín el martes por la noche, pero no dio muchas más pistas
Archivado en:: Baron Corbin, Estados Unidos, Jinder Mahal, Randy Orton, Samoa Joe, SMACKDOWN, SMACKDOWN LIVE, STREAM, USA, USA Network, Ver WWE SmackDown Live, WRESTLING, WWE Money In The Bank