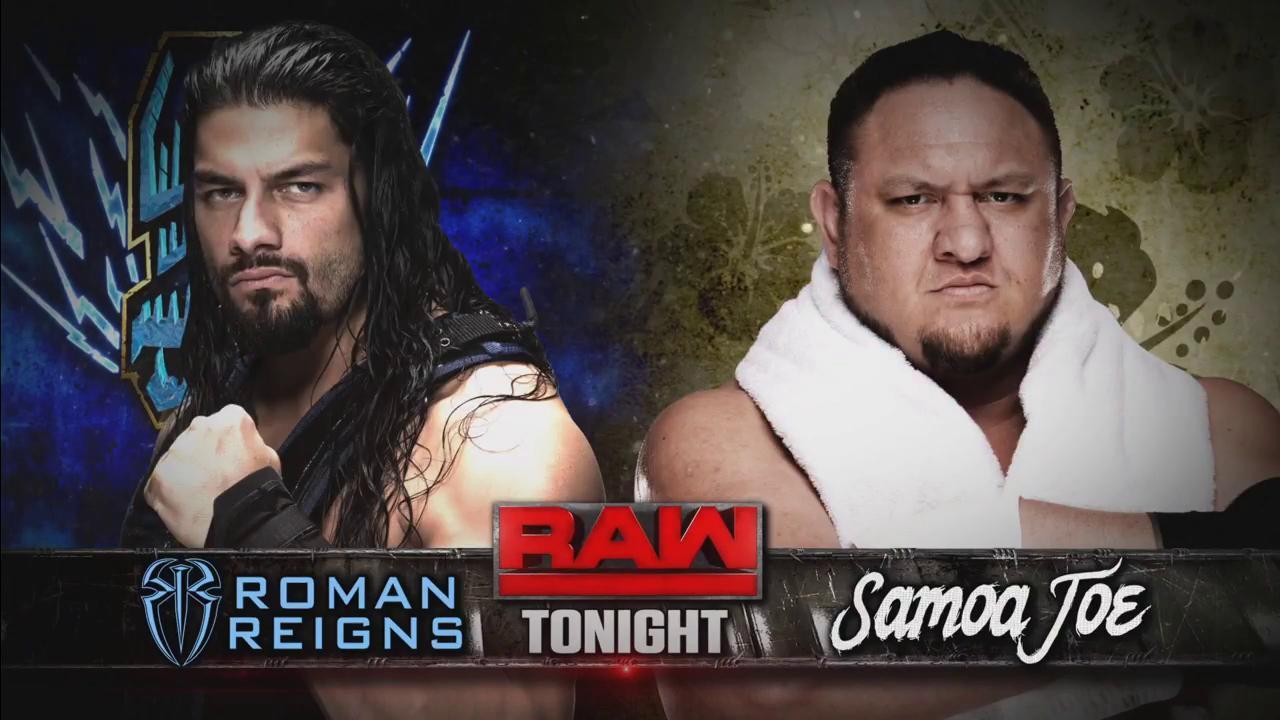 Roman Reigns abre el show. Comienza a hablar de los oponentes que derrotó , de sus Wrestlemania, y el Undertaker. Allí la gente comienza a corear el nombre del Deadman por unos instantes. "Lo respeto, y él me respeta porque lo derroté", agrega. "Después de Great Balls of Fire no me importa quién gane, Brock Lesnar o ese que se llama Joe. Porque soy el retador número uno al Campeonato Universal. ¿Saben por qué? Porque este es mi patio. Y yo hago las reglas aquí", dice desafiante.


Samoa Joe ingresa al ring. "Noté que parece que olvidaste mi nombre", dice Joe. "También noté que ni nombre no estaba en tu lista, porque nunca me derrotaste. Se presenta como el verdadero retador y el próximo Campeón Universal. Reigns mantiene que para él nunca será "Samoa" Joe, solo Joe. ¡Samoa Joe lanza un cabezazo! Joe sigue atacando a Reigns por ringside, lanzándolo contra la barricada varias veces. Reigns responde con un Superman Punch y Joe baja del ring.
Más tarde,
Samoa Joe vs. Roman Reigns
.
- The Hardy Boys vs. Karl Anderson & Luke Gallows
Los Hardys dominan a Anderson al inicio del combate. Double Suplex y cuenta de dos. Gallowwws recibe el relevo y sufre la misma suerte. Jeff busca altura y Karl lo derriba. Tras los comerciales, Gallows conecta una Big Boot a Jeff. Cesaro y Sheamus miran el combate desde vestuarios. Jeff cae de pie ante un Suplex de Karl, ataca a Luke pero no llega a esquina. Finalmente logra sacarse de encima a Anderson, pero Gallows ingresa y saca a Matt de su esquina. Splash y relevo a Karl. Jeff ataca a ambos y se lanza en voltereta desde el esquinero. Matt responde con derechazos. Side Effect y cuenta interrumpida por Luke Gallows. Matt saca a Luke del ring, Karl busca el pin con Rollup. Boot of Doom para Matt y cuenta de dos. Twist of Fate y Swanton Bomb para Gallows.
The Hardy Boys derrotan a Karl Anderson & Luke Gallows.
Promo de Goldust dirigida a R-Truth.


Elias Samson hace una promo antes de cantar, y se pone a afitar su guitarra. Pide completo silencio para ello, obviamente recibe abucheos. Finn Balor interrumpe al Drifter. Se miran, pero nada sucede, Samson se va.
- Bo Dallas vs. Finn Balor
Dallas ataca con agresividad antes de que suene la campana. El árbitro se asegura que Finn pueda competir, y el combate da inicio. Bo sigue con su actitud y no cesa de atacar a Finn. Lo estrella contra la barricada y aplica un duro rodillazo. Cuenta de dos al volver al ring. Finn responde con una Pele Kick. Gran patada a Bo desde el apron del ring hacia ringside. Lanza contra la barricada tres veces a Bo. Dropkick y Coup de Grace para la cuenta de tres.
Finn Balor derrota a Bo Dallas.
Kurt Angle está hablando por teléfono en backstage, cuando aparece Corey Graves. Enzo Amore y Big Cass los interrumpen. Angle regaña a Amore por enviar un tweet a Connor MacGregor. Cass insiste en hablar de los ataques que han recibido semana tras semana. Angle asegura que esta noche sabrán quién los atacó.
Seth Rollins sale y habla del nuevo juego de WWE2K. Agradece el apoyo del WWE Universe y dice que esta es "nuestra" portada, no solo suya. Bray Wyatt lo interrumpe desde la pantalla gigante. Después de intercambiar palabras, Bray Wyatt aparece y se dirige al ring. ¡Seth Rollins se lanza desde las alturas sobre Bray!
Finn Balor es entrevistado en backstage. Sigue con el Campeonato Universal en su mente a pesar de la derrota en Extreme Rules. ¡Samson ataca a Balor por la espalda!
Titus O'Neil sale a presentar a su cliente en el combate, a quien presenta como futuro Campeón de Peso Crucero. Tozawa mantiene el control hasta la pausa. Al volver, es TJP quien ataca. Tozawa recupera y se lanaz en Senton Bomb.
Akira Tozawa derrota a TJP
Titus O'Neil se sube al ring con Tozawa, y discute con Neville desde la mesa de comentaristas.
Promo de R-Truth respondiendo al reto de Goldust.
The Miz interrumpe a Curtis Axel y Bo Dallas, les ofrece hacerlos verdaderas estrellas.
Samoa Joe es entrevistado en backstage. Asegura que vencerá a Roman Reigns y se hará también con el Campeonato Universal.
- Roman Reigns vs. Samoa Joe
Comienzo igualado. Reigns comienza a superar a Joe con sus golpes, pero Samoa baja del ring. Vuelve y conecta golpes rápidos. Ahora es Reigns quien baja del ring. Roman sorprende con Samoan Drop. Joe pasa al ataque una vez más, pero en ringside, donde aplica un Running Senton. Roman luego revierte, logra escapar del Coquina Clutch. ¡Spear! 1..2...¡no! Joe toca la esquina y baja del ring. Samoa vuelve al ring justo antes de diez. Reigns acecha a Joe, que aún no termina de levantarse en el ring, cuando aparece una ambulancia en la pantalla gigante. ¡BRAAAAAAAUN! Samoa Joe aprovecha la distracción para aplicar el Coquina Clutch.
Samoa Joe derrotó a Roman Reigns por sumisión.
Braun Strowman entra al ring, mientras Roman Reigns sigue tirado. "Roman...parece que te has olvidado. ¡No he acabado contigo!" grita Strowman antes de atacar al destruido Reigns. "Si eres lo suficientemente hombre, nos vemos en
Great Balls of Fire...en un Ambulance Match
", dispara Braun.
The Miz presenta a Maryse para su segmento Miz TV. En el ring hay dos tipos vestidos de osos con cartelers pidiendo perdón, un regalo gigante, y champagne. Pero Maryse sigue enojada. El regalo era el reloj antiguo, que el propio Miz estuvo arreglando. Románticas declaraciones de Miz. Dean Ambrose los interrumpe. Sin querer, Miz hace choca a Maryse y luego carga conta el reloj. Maryse se marcha furiosa. Dean busca el Dirty Deeds pero solo llega a aplicar un Clothesline. ¡Los osos atacan a Ambrose!
¡Son Bo Dallas y Curtis Axel!
- Cesaro & Sheamus vs. Titus O'Neil & Apollo Crews
Apollo y Cesaro inician la acción con buen ritmo. Uppercut y relevo para Cesaro. Rolling Senton sobre Crews y cuenta de dos. Cesaro mantiene el dominio. Enziguri de Apollo y relevo para Titus. Big Boot para Cesaro, pero Sheamus castiga con la cuerda suprior. Splash para Sheamus y Body Slam. Standing Moonsault de Apollo y cuenta interrumpida por Cesaro. Crews saca del ring a Cesaro y busca el pin sobre Sheamus. Uppercut de Cesaro a Apollo desde ringside. White Noise con asistencia de Cesaro.
Cesaro & Sheamus derrotan a Titus O'Neil & Apollo Crews
Video promocional de Brock Lesnar vs. Samoa Joe.
- Sasha Banks vs. Nia Jax
Alexa Bliss se une a la mesa de comentaristas. Nia ataca a Sasha pero ésta la esquiva y se lanza en Double Knees desde las alturas. Emma encara a Alexa en la mesa, Bliss la empuja y sale corriendo rumbo al ring. Alexa se cubre con Nia, pero Jax la deja frente a Emma. Emma ataca, Alexa esquiva y hace que Nia reciba el golpe.
Nia Jax derrota a Sasha Banks por DQ.
Caos postmatch, se suman Dana Brooke, Mickie James y Bayley. Las chicas buenas conquistan el ring.
Kurt Angle sale al ring para hablar sobre los ataques a Enzo Amore & Big Cass, a quienes llama al ring. Angle dice que estuvo toda la noche hablando con sospechosos, y comienza a llamarlos. The Revival y Big Show salen al ring. Big Show está tremendamente ofendido por la sospecha de Angle, y dice que si fuera a por Enzo y Cass los atacaría de frente. Se ofende con Angle y dice que tal vez no deba seguir en este show, saliendo del ring. Wilder toma la palabra y dice que no tienen nada que demostrar. Angle revela que habló con árbitros, staff y demás personal, The Revival tiene coartadas más que creíbles. Corey Graves se mete en la charla desde la mesa. Graves dice que ningún doctor de WWE atendió a Cass, por lo que su declaración de que tenía un golpe de tal tamaño era mentira. Pero Cass dice que se atendió con otros doctores, no con los de WWE. Graves sigue insistiendo, y dice que tiene pruebas. Se ve a Big Cass en backstage, como perdido, mirando para todos lados. Acomoda la escena donde se supone que fue atacado. Mientras se ve el video, Graves se muestra sarcástico con Cass. En el video se ve a Big Cass haciendo ruido contra un mueble y luego tirándose al piso, quedando en la misma posición donde fue encontrado.
"Cass, ambos sabemos que nadie te atacó. ¿No? ¡Tu atacaste a Enzo!"
acusa Graves.
"¡Tienes razón que lo hice!
¿Tienes idea lo que es ser equipo contigo, Enzo?" dispara Cass y recibe los abucheos. Dice que se sintió genial atacarlo por la espalda. Y sabe que podría haber acabado con él en cualquier momento, pero quería verlo sufrir por todos estos años. "Quería ver qué tan inteligente eras, si eras lo suficientemente listo para ver lo que pasaba a tu alrededor, o si eras tan tonto como pareces. Y me di cuenta que eres aún más tonto. Eres peso muerto que no me permite acceder a lo más alto de WWE. Eres la razón por la que nunca fui campeón en WWE. ¡Soy la estrella! ¡Soy el futuro! Y tu...tu boca escribe cheques que tu trasero no puede cobrar. Porque Big Cass siempre te cubrió las espaldas. Bueno, pero no más.
Porque tu y yo...hemos terminado
". ¡Big Boot de Big Cass!
Big Cass se marcha mientras Kurt Angle ayuda a Enzo Amore
.
Archivado en:: MONDAY NIGHT RAW, RAW, Raw en vivo hoy, Resultados, RESULTS, Ver WWE, ver wwe en vivo, Ver WWE Raw, WRESTLING, WWE MONDAY NIGHT RAW, WWE RAW, WWE Raw en Español