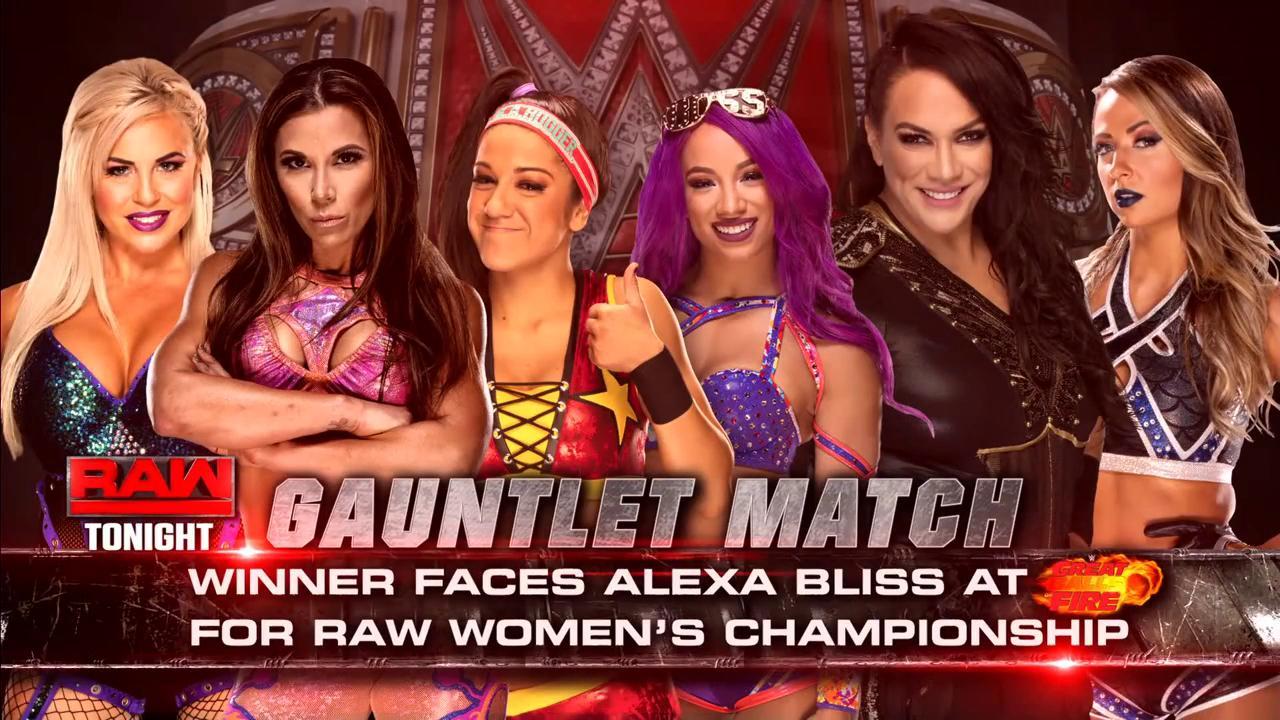 Roman Reigns abre el show tras una repetición de lo sucedido la semana pasada. La gente pide a Braun Strowman, y celebra cuando Reigns recuerda que Samoa Joe lo atacó con la Coquina Clutch. Acepta el reto de Strowman para tener un Ambulance Match en Great Balls of Fire. "Porque este es mi patio y yo hago las reglas", sentencia Roman, pero una ambulancia entra a la arena y lo interrumpe. Reigns se baja del ring y se dirige hacia el vehículo. Se acerca, abre las puertas traseras...y no hay nadie. ¡Strowman lo ataca por detrás! La gente enloquece. Reigns responde desde la rampa, busca un Superman Punch pero Braun lo detiene y lanza contra el costado de la ambulancia. Mete a Roman en la ambulancia, que se va de la arena.

Elias Samson está en el medio del ring junto a Cesaro y Sheamus, para cantar. Empieza a tocar la guitarra, pero es interrumpido por la música de los Hardys.



- Elias Samson, Sheamus & Cesaro vs. The Hardy Boys & Finn Balor
Sheamus y Matt inician la acción. Intercambio de golpes y relevo para Jeff. Cesaro interviene luego de haber sido atacado y recibe un Double Suplex, mientras Finn saca a Samson. Josh Duamel, de Transformers, se une a la mesa de comentaristas. En el ring, Balor conecta a Cesaro. Finn queda en la esquina contraria y es dominado por Samson y Sheamus. Esquiva al irlandés e ingresa Jeff que busca la cuenta sin éxito. Después de otra pausa, Irich Curse Backbreaker de Sheamus a Jeff y cuenta que no llega a tres. ¡Twist of Fate para Sheamus! Ambos quedan en la lona. Relevos en ambas esquinas. Matt golpea contra los protectores del esquinero a Samson y aplica el Side Effect. Sheamus rompe la cuenta. Cesaro lo ataca contra el poste y recibe el relevo Cesaro. Matt se libera e ingresa Finn. Clotheslines para sacar a ambos Campeones de Parejas del ring y volar sobre ellos. Slinglade a Cesaro y Dropkick. Matt aplica un Twist of Fate a Cesaro mientras Jeff vuela sobre Samson. Coup de Grace y cuenta de tres a Cesaro.
The Hardy Boys & Finn Balor derrotan a Elias Samson, Sheamus & Cesaro.
Promo de Goldust.
Goldust vs. R-Truth no se lleva a cabo.
Goldust ingresa con un camarógrafo vestido de dorado, y comienza a atacar a Truth antes de que suene la campana. Lo castiga contra el poste, sin escuchar las advertencias del árbitro. Finalmente, posa para su cámara dorada.
Charly Caruso entrevista a Paul Heyman, quien es interrumpido por Samoa Joe. Parece que le va aplicar el Coquina Clutch, pero dice que no lo gastará en él esta vez, sino sobre Lesnar más tarde.
Bayley saca un número para el Gauntlet Match de más tarde, bajo la supervisión de Kurt Angle.
The Miz y Maryse salen al ring para su segmento de Miz Tv. Presenta a sus invitados, LaVar, LiAngelo y Lonzo Ball. Miz discute con LaVar, hasta que sale Dean Ambrose.
- The Miz, Curtis Axel & Bo Dallas vs. Dean Ambrose, Rhyno & Heath Slater
Ambrose ataca a Axel y da el relevo a Slater. Codazos a la vez junto a Rhyno sobre Axel. Curtis lleva a Rhyno a su esquina, y Miz toma el relevo y domina al veterano. Dallas entra con mucha agresividad. Rhyno responde con un Clothesline a Axel y busca ayuda. Dean ataca a Axel y Miz a la vez. Saca a Axel y Dallas del ring, Slater y Rhyno hacen lo propio con Miz. Al volver de la pausa, Axel está dominando a Slater. Awesome Clothesline de Miz con ayuda de Bo. Patadas a la Daniel Bryan sobre Slater, que esquiva la última y ataca a Miz. Sigue el dominio sobre Heath. Relevos para Dallas y Rhyno. El ManBeast aplica un brutal Spinebuster pero Miz interrumpe la cuenta. Ambrose lo persigue por ringside. Axel ataca desde fuera a Rhyno, Dallas aprovecha para cubrir con Rollup.
The Miz, Curtis Axel & Bo Dallas derrotan a Dean Ambrose, Rhyno & Heath Slater.
Repetición de lo sucedido entre Big Cass y Enzo Amore las últimas semanas, que culminó con la traición de Cass, revelando haber sido quien atacó a Enzo anteriormente.
Enzo Amore y hace su parte de la promo de siempre. Dice que intentó hablar con Cass de toda forma posible, pero Cass no respondió. Amore insiste en hablar de hombre a hombre, ahora mismo. Big Cass entra al ring y es abucheado. "Sé que esa reacción te hiere, como tu me heriste a mí", dice Enzo. "Dijiste muchas cosas hirientes. ¿Y sabes qué? En muchas tenías razón", dice Enzo y reconoce que es pequeño, que habla más de lo que debe, pero eso estaba bien porque estaban juntos. Amore se niega a romper su vínculo. "Somos hermanos. Olvida esto...tu eres mi hermano en la vida... Lo que me hiciste está en el pasado. La semana pasada vi pasión en tus ojos, vi enojo, vi amor, vi pasión. Y sé que viste lo mismo corriendo por mis mejillas. Esto es real, esto somos nosotros, yo lo sé y tu lo sabes", afirma Enzo.
"Me niego a romper este lazo sin ser campeones de parejas"
, cierra antes de que Cass tome el microfono. "No sabes cuando callarte. Después de lo que hice la semana pasada, nunca me sentí tan avergonzado. Sí...eres molesto, hablas alto, pero eres tu y te acepto por cómo eres. No te voy a cambiar, ni tu a mí. Somos hermanos, como dijiste. Así que, frente al mundo, quiero decirle a mi hermano que lo siento. Lamento todo lo que dije e hice las últimas semanas. Por favor acepta mi disculpas", dice Cass. Enzo se ve emocionado, lo mira a los ojos y sigue hablando. Cass mantiene su mano extendida, Enzo duda. Le da la mano, Cass lo abraza. Van juntos hasta la rampa, posan.
¡Cass aplica un Clothesline a Enzo!
Castiga a Enzo lanzándolo por la rampa, y allí lo deja tendido.
- Seth Rollins vs. Curt Hawkins
Hawkins toma la iniciativa. Suplex y otra cuenta que no llega a tres sobre Rollins. Enziguri de Seth que saca del ring a Hawkins. Suicide Dive y de vuelta al ring. Slingblade y Blockbuster. Hawkins frena una Superkick pero recibe la segunda. Rodillazo a la cara y cuenta de tres.
Seth Rollins derrota a Curt Hawkins.
Bray Wyatt dirige una promo a Seth Rollins desde la pantalla gigante ni bien termina el combate.
Brock Lesnar llega a la arena.
Sasha Banks saca su número para el Gauntlet Match.
- Neville vs. Lince Dorado
Neville ataca con agresividad. Akira Tozawa observa desde ringside, sentado con una mesa con snacks y un cartel con su nombre, ideas de la Titus Brand. Lince responde con velocidad y se lanza en gran Crossbody para la cuenta de dos. Neville conecta varias patadas y aplica el Rings of Saturn.
Neville derrota a Lince Dorado por sumisión.
Tozawa se quita el saco y entra al ring, desafiante. Titus O'Neil sale y los detiene.
Anuncia que Neville se enfrentará a Akira Tozawa por el Campeonato de Peso Crucero.
Paul Heyman es entrevistado nuevamente. Asegura que Brock Lesnar destruirá a Samoa Joe.
Alexa Bliss habla con Nia Jax en backstage. Dice que son iguales, que pasaron por cosas iguales. Alexa le desea suerte, aunque no la necesite. Nia dice que no la necesita y que la vencerá por el título en Great Balls of Fire.
- Gauntlet Match
Bayley y Nia Jax son las primeras.
Nia le habla con soberbia, Bayley ataca pero Nia ni se inmuta. La carga y lanza contra el esquinero. Clothesline para Bayley. Jax mantiene el control. Bayley responde y aplica un Diving Elbow, pero no es suficiente. Bayley patea las piernas de Nia, pero ésta la empuja contra el esquinero. Bayley busca altura y Nia la hace caer. Samoan Drop y cuenta de tres.
Nia Jax derrota a Bayley. Mickie James es la próxima.
La acción inició durante la pausa. Nia domina y aplica Bearhug. Mickie responde con golpes de antebrazo y patadas. Mick Kick pero Nia no cae. James busca su DDT, Jax se la saca de encima y la arrolla.
Nia Jax derrota a Mickie James. Dana Brooke ingresa.
Dana hace una rueda de carro y Nia la empuja contra la lona. Leg Drop y cuenta de dos.
Nia Jax derrota a Dana Brooke. Emma entra al combate.
Emma castiga con la cuerda superior ni bien entra y aplica Dropkicks. Cuenta de dos sobre Nia. Emma busca altura y se lanza en Crossbody, Nia la atrapa y aplica Samoan Drop.
Nia Jax derrota a Emma. Sasha Banks es la última participante del Gauntlet Match.
Sasha ataca y aplica Jawbreaker. Bofetada para Nia, Sasha la reta y luego la esquiva para hacerla caer del ring. Nia la atrapa en el aire en ringside, pero Sasha escapa y la lanza contra el poste. Double Knees de Sasha Banks hacia ringside. Al volver de comerciales, la acción sigue en el ring. Nia busca la cuenta pero Sasha escapa. Body Slam y Elbow Drop para Banks, no son suficientes. Sasha castiga con la cuerda superior e intenta atacar, pero Nia la derriba. Hip Attack contra las cuerdas y Camel Clutch también contra las cuerdas. Otra cuenta de dos. Leg Drop a la pierna de Sasha, para sacarla nuevamente del ring. Otro Bearhug para Sasha que termina en una especie de Falcon Arrow. 1...2...¡no! Sasha evita un Suplex, quiere hacer un Roll Up, evita un Leg Drop y aplica tremendo rodillazo a Nia. Ambas quedan tendidas en la lona. Bank Statement de pie a Nia, que con su fuerza se la quita de encima a Sasha. Samoan Drop a Banks, que queda al filo del ring. Sasha patea desde la lona, Nia le grita y la levanta del cabello. La carga, pero Sasha sorprende con una variante del Bank Statement. ¡Nia se rinde!
Sasha Banks derrota a Nia Jax y se convierte en retadora al Campeonato Femenino de Raw.
Kurt Angle sale a felicitar a Sasha Banks. Alexa Bliss sale y se para ante Sasha Banks con su título en alto. Sasha la patea y le quita el título para posar con él. Alexa observa enojada desde ringside.
Archivado en:: MONDAY NIGHT RAW, RAW, Raw en vivo hoy, Resultados, RESULTS, ver wwe en vivo, Ver WWE Raw, WWE MONDAY NIGHT RAW, WWE RAW, WWE Raw en Español