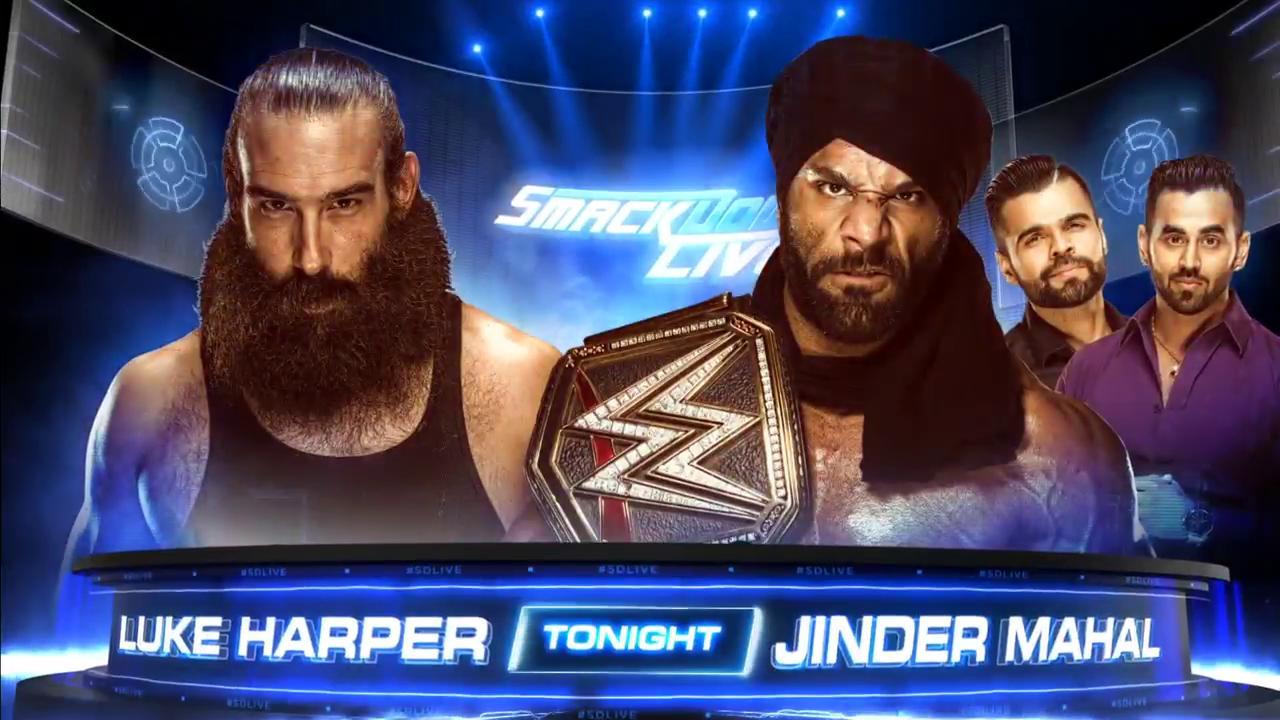 El show comienza con una recapitulación de lo ocurrido en el final del Money in the Bank femenino.
Tamina
,
Charlotte Flair
,
Natalya
y
Becky Lynch
están en backstage, fuera del camerino de
Daniel Bryan
. El gerente general sale, y les dice a las mujeres que escuchara a cada una de ellas, pero primero necesita escuchar a Carmella y James Ellsworth.
Vemos a
Carmella
y
James Ellsworth
entrando al ring. Ellsworth le grita al público para que le aplaudan a Carmella. Carmella da la bienvenida a la era de Carmella, y dice que su nombre ha estado siendo tendencia mundial, debido a la forma en que ganó el maletín, debido al irrespetó hacia el momento, pero a ella no le importa nada de eso. Carmella presume de su inteligencia, ya que mientras las demás pensaban en hacer historia, ella solo pensaba en hacer planes para su futuro.
C
armella menciona cuando Kane ayudó a Seth Rollins a ganar el maletín en 2014, o cuando Bray Wyatt no era parte del combate e interfirió para hacer perder a Roman Reigns, Carmella lo compara estos hechos con su situación. El maletín se lo ganó porque era un combate sin descalificación, por lo tanto ella es la única señoría Money in the Bank.
Daniel Bryan observa desde su oficina el programa, llega Charlotte Flair y está le dice que él debe actuar, Charlotte le señala que la cláusula no descalificación solo debería ser aplicable a las participantes del combate, se marcha y le dice a Bryan que haga lo correcto.
Se ve a
The New Day
caminando hacia el ring por backstage con un esqueleto, el cual lleva puesta la camiseta de The Usos.
The New Day llegan al ring, y lamentan el hecho de que no hayan podido ganar los campeonatos en parejas el día de ayer.
Llegan
The Usos
, se anuncia que Jimmy Uso luchara contra uno de los miembros de The New Day.
Jimmy Uso vs. Big E
Jimmy lleva la ventaja sobre Big E, Jimmy se lanza desde el esquinero, pero Big E lo atrapa y lo lanza con múltiples suplex de estómago contra estómago. Big E se lanza, pero Jimmy contrataca con Samoan Drop. Jimmy escapa fuer a del ring, trata de retirarse junto s su hermano, pero Kofi e lanza sobre Jey. Jimmy vuelve al ring, Big E esquiva su ataque, lo captura con el Big Ending y se lleva la victoria.
Big E derrota a Jimmy Uso vía pinfall
Daniel Bryan está en su oficina, llegan Natalya y Tamina para hablar con él. Tamina le dice que no permita que Carmella y Ellsworth no se salgan con la suya. Bryan promete que tendrá la decisión oficial en algún momento.
Naomi
es entrevistada en backstage, dice que lo sucedido con Carmella es una lástima, debido a que todas las involucradas trabajaron Duero. Naomi es interrumpida por
Lana
, y dice que si no fuera por la distracción de Carmella, ella hubiera ganado. Naomi le recalca que ella perdió limpiamente, pero como es una campeona peleadora le dará una oportunidad la próxima semana.
E muestra una entrevista pre graba con Randy Orton, este admite haber perdido el control después de que los hermanos Singh atacaran a su padre. Orton dice que Jinder Mahal hizo las cosas personales, y ahora está dispuesto a hacer lo que sea para poner sus manos sobre él.
Dolph Ziggler vs. Shinsuke Nakamura
Comienzan de manera técnica, intercambiando llaves a los brazos y cintura. Shinsuke toma la ventaja, aplasta la cara de Ziggler con rodillazo y luego lo impacta con sus vibraciones en el esquinero. Nakamura se lanza, pero Ziggler lo esquiva y Shinsuke se golpea el hombro en el esquinero. Ziggler toma la ventaja, pero Nakamura consigue sacarlo del ring [Comerciales] Ziggler lleva la ventaja, mantiene a Nakamura encerrado con candado, pero este se libera dando golpes. Shinsuke ataca con patada al estómago, y sigue con patada a la cabeza. Nakamura obtiene la ventaja, patea con fuerza a Ziggler en el pecho. Continúa atacando con rodillazos a la zona media de Ziggler. Nakamura prepara la Kinshasa, pero Ziggler esquiva y contrataca con famuser, pero Nakamura escapa a la cuenta de tres. Ziggler prepara la superkieck, Shinsuke lo esquiva y lo atrapa con sumisión, encerrando a Ziggler en un doloroso arm bar, pero Ziggler le lanza un piquete a los ojos para liberarse. Ziggler cae de pie tras el suplex explosivo de Nakamura, aplica el zigzag, pero Nakamura escapa a la cuenta de tres. Ziggler encierra a Shinsuke en dormilona, pero el japonés se pone de pie, se libera, y patea a Ziggler en la nuca. Shinsuke prepara la Kinshasa, y la conecta en toda la cara de Ziggler para llevarse la victoria.
Shinsuke Nakamura derrota a Dolph Ziggler vía pinfall
Daniel Bryan habla con Sami Zayn, el gerente le dice que lo pondrá contra Baron Corbin. Llega Becky Lync, y Sami opina que le robaron el combate.
Becky Lynch le dice que lo peor para ella, es que tenía el maletín en sus manos, hasta que Ellsworth lo tomó. Becky se emociona, dice que no sabe qué hacer porque no importa cuánto trabaje, siempre alguien sale tomando atajos y le pasa por encima. Becky le pide ayuda al gerente, pero Bryan le responde que no sabe qué hacer por ella, y Becky le dice que no debería ser tan difícil hacer lo correcto.
Kevin Owens
entra al ring, y dice que la única razón por la que no ganó el Money in the Bank, es porque los demás competidores conspiraron en su contra. Piensa que lo que le pasó el domingo fue injusto, pero que aún se mantiene irrompible como la cara de los Estados Unidos. Kevin Owens lanza un reto abierto, y aparece
AJ Styles
.
AJ le dice a Owens que es un desafortunado, AJ se prepara para pelear, pero Owens le dice que el reto era para un residente de Dayton, Ohio.
De pronto aparece
Chad Gable
y dice que está aquí porque acaba de mudarse a Dayton esta mañana. AJ apoya a Chad Gable, y anuncia a que se suena la campana.
Reto abierto de la cara de los Estados Unidos Kevin Owens
Combate por el Campeonato de Los Estados Unidos
Kevin Owens
vs. Chad Gable
Gable se lanza rápidamente sobre Owens, lanzándolo a la lona con suplexes, trata de atraparlo con un candado al tobillo, pero Owens se refugia en las cuerdas [Comerciales] Ambos combate sobre el esquinero, Owens lanza a Gable sobre la lona, busca rematar, pero Gable contrataca. Gable planta a Owens con DDT sobre la lona, busca altura y se lanza con Moonsault, pero Owens se salva de la cuenta de tres. Owens busca la bala de cañón, pero Gable esquiva y contrataca con suplex alemán, Owens se salva de la cuenta, lanza a Gable a las cuerdas y lo remata con el pop-up powerbomb.
Kevin Owens derrota a Chad Gable vía pinfall
Zack Ryder y Mojo Rawley le dicen al gerente Daniel Bryan que ellos aún tienen una oportunidad titular, la que ganaron cuando Ryder se lesiono. Bryan dice que les da otra oportunidad, de tener una oportunidad, tendrán que vencer a The Usos la próxima semana.
Daniel Bryan llega al ring, dice que le dijeron que debe dejar sus emociones de lado y solo dirigirse por el libro de reglas, Bryan invita a las participantes del Money in the Bank.
Llegan Charlotte Flair, Natalya, Tamina, Becky Lynch y Carmella. Bryan reconoce que el combate es sin descalificación, y que las reglas no especifican nada. Lo único que dicen las reglas, es que la primera mujer en portar el maletín es la ganadora. Ha habido otras interferencias, pero nunca ha pasado nada como lo que ha hecho Ellsworth, por lo que están en territorio desconocido.
Ellsworth le habla a Bryan, pero este lo hace callar y lo amenazó con despedirlo, y golpearlo si vuelve a mencionar a su hija otra vez. Todas las mujeres comienzan a discutir. Daniel Bryan mantiene el control.
El gerente general dice que Carmella será la primera mujer en entregar el maletín de Money in the Bank, y que no permitirá que alguien como Ellsworth arruinar un momento histórico. Daniel Bryan confirma que la próxima semana habrá nuevamente un Money in the Bank femenino, con las mismas participantes, para decidir a la portadora definitiva del maletín.
Carmella queda el medio del ring, entre Becky Lynch y Charlotte, y ambas la atacan.
ACTUALIZANDO RESULTADOS
Archivado en:: Baron Corbin, Carmella, DANIEL BRYAN, Resultados, RESULTS, Shinsuke Nakamura, SMACKDOWN, SMACKDOWN LIVE, Ver WWE SmackDown Live, WRESTLING, WWE Money In The Bank