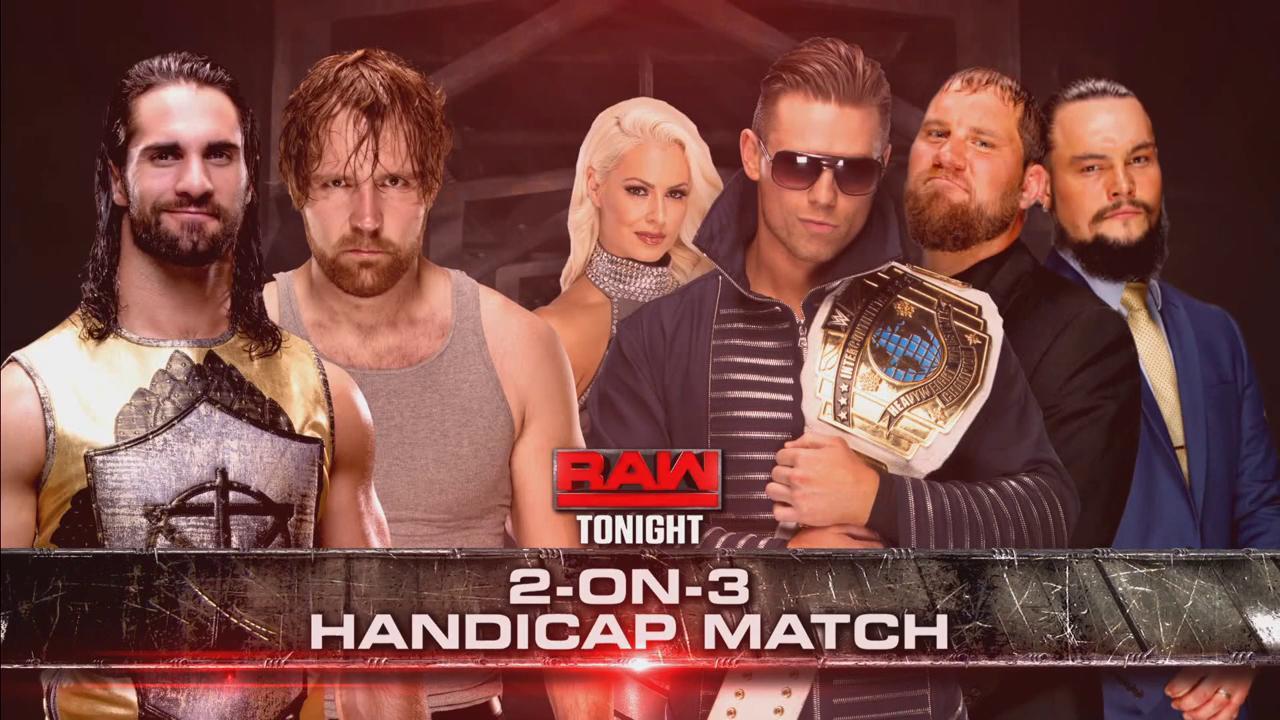 Kurt Angle abre el show. Pronto es interrumpido por Braun Strowman, quien habla de enfrentarse a Brock Lesnar. Samoa Joe se suma a la discusión. Roman Reigns aparece y señala todos sus logros, en contraste con sus oponentes, a quienes reta a decir lo que han logrado. Angle anuncia su nueva decisión:
Brock Lesnar vs. Samoa Joe vs. Roman Reigns vs. Braun Strowman
por el Campeonato Universal en Summerslam.
Joe, Strowman y Reigns siguen discutiendo hasta que estalla el caos. Los samoanos se unen y lanzan a Strowman por encima de la barricada. Joe sorprende a Reigns y lo golpea. Strowman vuelve y carga contra ambos. Mientras, Kurt Angle pide ayuda a la seguridad. Strowman destruye de manera brutal al staff de seguridad. Samoa Joe aplica su Coquina Clutch a Strowman. Sale parte del roster a intentar detenerlos. Spear de Reigns que hace caer a varios luchadores además de su objetivo, Strowman. Roman limpia el ring y Braun lo golpea por la espalda. Running Powerslam a Reigns.
- Combate sin descalificación
Elias Samson vs. Finn Balor
Elias canta antes del combate, hasta ser interrumpido por Finn. Balor ataca ni bien suena la campana. Finn domina con agresividad los compases iniciales. Samson responde y castiga el hombro lesionado de Balor. Elias toma una silla y se encamina al ring. Finn lo ataca y hace que pierda la silla. Samson vuelve a lastimar el hombro del oponente. Finn reacciona y arrincona a Elias. Balor toma la silla, pero Elias se la quita y la usa contra él. Al volver de la pausa, Elias saca a Finn del ring, haciendo que se estrelle su hombro contra la barricada. Shoulderbreaker y cuenta de dos. Samson cruza una silla en la esquina, pero Finn responde y es Samson quien se golpea. Finn lo saca del ring, lo atrapa bajo la falda del mismo y castiga sin cesar. Patada desde el apron y Dropkick contra la barricada. Destruye a Samson con la silla. Dos Dropkicks y Finn busca altura. ¡Coup de Grace! Se apagan las luces...¡Sister Abigail de Bray Wyatt! Samson se arrastra y cubre a Balor.


Elias Samson derrota a Finn Balor.
Bray Wyatt se acerca a Finn haciendo su caminata diabólica, y le susurra cosas.
Fragmentos de la entrevista a Jason Jordan de la semana pasada. Padre e hijo se muestran muy contentos.


Kurt Angle es entevistado por Renee Young en baskstage. Angle dice que Jordan quiere probar su nivel por su propia cuenta. Esta noche enfrentará a Curt Hawkins. Como padre, siente mariposas en el estómago dice Angle, pero confía en Jason. Emma lo interrumpe, dice que está feliz, pero pregunta cuándo los focos estarán sobre ella. Kurt Angle le confirma un combate ante Nia Jax esta noche.


Enzo Amore y Big Show hablan en backstage. Show le pregunta si está seguro, pero Amore se muestra confiado.


- Enzo Amore vs. Big Cass
Amore hace una promo antes del combate. Al iniciar, Enzo intenta superar a Cass con su velocidad. Big Cass responde con un duro golpe a la espalda, y manda a Enzo a volar por el ring. Empire Elbow a Amore. Cass patea y pisotea a Enzo. Cass sigue castigando a Enzo contra las esquinas. Big Boot y cuenta de tres.


Big Cass derrota a Enzo Amore.
Finalizado el combate, Cass sigue atacando. Big Show sale al ring. Big Cass lo destroza y aplica varios Empire Elbows. Show golpea pero Cass lo derriba con una patada y más Empire Elbows. Cass sigue humillando y lastimando a Show. Aparece un árbitro para detenero.


Alexa Bliss es entrevistada por Renee Young en backstage. Dice que no le importa a quién se va a enfrentar en Summerslam, solo piensa en disfruta cómo se destruye la amistad entre Sasha Banks y Bayley.
Alexa Bliss es entrevistada por Renee Young en backstage. Dice que no le importa a quién se va a enfrentar en Summerslam, solo piensa en disfruta cómo se destruye la amistad entre Sasha Banks y Bayley.
Nia supera con su poder los intentos de Emma. La destroza de esquina a esquina, apica Leg Drop y fin del match.
Nia Jax derrota a Emma.
Akira Tozawa es entrevistado por Charly Caruso. Tozawa, con su hombro vendado, quiere enfrentar a Ariya Daivari nuevamente. Titus O'Neil aparece para informarle que canceló su combate. Akira se enoja y sale para tener su combate ahora mismo.
Neville sale y le dice a Tozawa que su lesión en el hombro, su confianza destruida, son a causa de él. Akira lo reta a luchar ahora misma. Neville se burla de su espíritu guerrero, dice que intentó advertirle, pero eligió seguir las falsas promesas de Titus. Le dice a Tozawa que es patético, una broma, y Akira explota con patadas. Tozawa busca altura y aplica un Super Senton. Aparece Ariya Daivari y los ataca a ambos.
Bayley y Sasha Banks hablan sobre los dichos de Alexa más temprano. Banks está molesta, pero Bayley le recuerda que ya se han enfrentado pero aún son amigas. Sasha piensa en su enfrentamiento ante Alexa, Bayley le dice que debería primero enfocarse en su combate de esta noche.
Jason Jordan es entrevistado por Renee Young en backstage. Jordan está agradecido por la oportunidad que tiene, y se da cuenta que todas las miradas están sobre él. Siente mariposas, como dijo Angle, pero está confiado.
Seth Rollins y Dean Ambrose hablan en el vestuario. Rollins está emocionado por su combate, Ambrose no tanto.
Alexa Bliss se une a la mesa de comentaristas. Comienzo parejo con varios intentos de pin por parte de ambas luchadoras. Bayley pasa a tomar el control. Busca altura pero Sasha la hace caer hacia ringside. Al volver de la pausa, Sasha tiene el control, pero Bayley responde y busca la cuenta sin éxito. Bank Statement para Bayley. Sasha la aleja de las cuerdas, Bayley gira buscando el pin, Sasha mantiene la llave. Bayley logra escapar pero no puede conectar su remate. Intercambio de golpes con agresividad. Sasha castiga con sus rodillas la espalda de Bayley. Banks falla un ataque desde las alturas, intercambian rodillazos y quedan ambas en la lona. Con gran esfuerzo y ayuda de las cuerdas, logran levantarse e intercambiar más golpes. Sasha busca altura, Bayley la detiene de un golpe y va a por ella. Forcejeo en el esquinero, Bayley cae. Splash y cuenta de dos que Bayley revierte con un pin. 1...2...¡3!
Bayley derrota a Sasha Banks. Bayley enfrentará a Alexa Bliss por el Campeonato de Mujeres de Raw en Summerslam.
Alexa Bliss entra al ring y posa con el título ante Bayley.
Jason Jordan derrota a Curt Hawkins
. Combate rápido donde Jordan dominó con técnica y fuerza.
The Revival hablan en el ring, pero son interrumpidos por Karl Anderson y Luke Gallows.
- The Revival vs. Karl Anderson & Luke Gallows
Dawson y Anderson inician la acción. Pronto The Revival acorralan a Anderson. Relevo para Gallows. Revival logran distraer al gigante y atacarlo por la espalda. Clotheslines para sacar a Dawson y Wilder del ring. Al volver de la pausa, Anderson lucha con Dawson. Cesaro y Sheamus observan el combate desde el vestuario. Gallows carga contra ambos rivales. Big Boot y Splash sobre Dawson. Buscan la Boot of Doom, pero Wilder ataca a Anderson desde el borde del ring. Suena la música de los Hardy Boys, haciendo que Revival se distraigan. Anderson y Gallows lo sacan del ring, pero luego son ellos quienes se distraen. Shatter Machine a Anderson y cuenta de tres.
The Revival derrotan a Karl Anderson & Luke Gallows.
¡The Hardy Boys atacan a The Revival!
Twist of Fate para Wilder, que escapa justo a tiempo antes de recibir el Swanton Bomb.
The Miz le habla a sus compañeros, motivándolos para el combate que tendrán a continuación.
La próxima semana:
Samoa Joe vs. Roman Reigns vs. Braun Strowman.
- Dean Ambrose & Seth Rollins vs. Miz & The Miztourage
Miz inicia pero rápidamente da el relevo a Axel. Dean carga contra él y lo golpea contra el esquinero. Curtis responde y Seth ingresa al match. Cesaro y Sheamus también están mirando este combate. Rollins domina a Bo Dallas luego. Relevo para Miz, que castiga a Seth en el medio del ring. Slingblade de Seth. Ambrose entra al match, Miz baja del ring para huir. Axel intenta atacarlo pero Dean reacciona a tiempo. Trabajo conjunto de Dean y Seth sobre Miztourage, Miz vuelve a huir. Al volver de comerciales, Miz evita el tag y aplica un Suplex a Seth. Combo de Neckbreaker y Backbreaker a Seth, pero no es suficiente. Rollins sigue siendo castigado por los rivales, pero resiste. DDT y otra cuenta de dos. It Kicks para Rollins, que esquiva la última y trata de sorprender con un pin. Entra Ambrose y carga contra todos. Vuela sobre Miz y lo lanza contra la barricada. Rebound Lariat para Bo. Estalla el caos con los cinco luchadores. Axel estrella violentamente a Seth contra la barricada. Dean lucha contra Miztourage, no ve el relevo a Miz y recibe el Skull Crushing Finale. 1...2...¡Seth salva a Dean! Clothesline para él. Suicide Dives a la vez de Ambrose y Rollins. DDT a Dean al volver. Diving Knee de Seth y Dirty Deeds sobre Miz.
Dean Ambrose & Seth Rollins derrotan a The Miz & The Miztourage.
Archivado en:: Dean Ambrose, MONDAY NIGHT RAW, RAW, Raw en vivo hoy, Resultados, RESULTS, Seth Rollins, THE MIZ, Ver WWE Raw, WRESTLING, WWE RAW, WWE Raw en Español