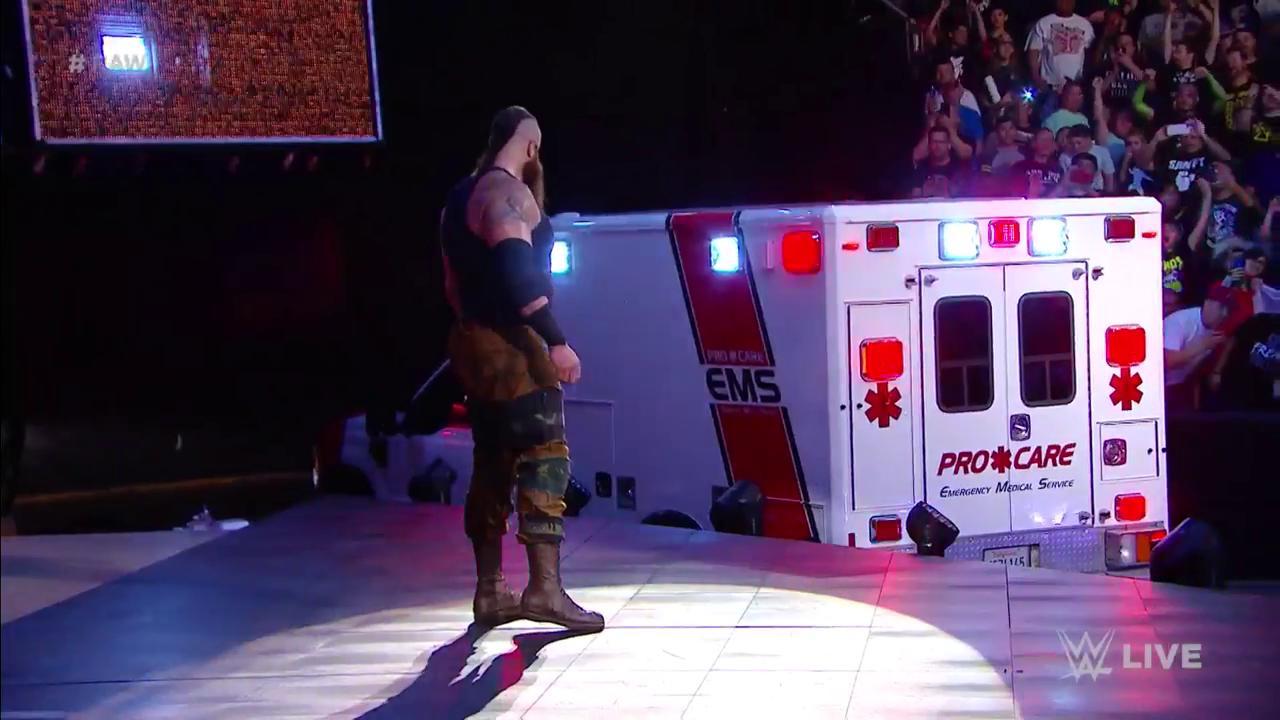 Enzo Amore abre el show haciendo una promo en el ring. Recuerda todo lo que le ha pasado estos años, todo lo que ha sufrido, aún teniendo a Cass supuestamente cubriendo su espalda. "Nunca cubriste mis espaldas, nunca lo hiciste. ¿Qué es lo peor que me pueden hacer tu o Connor McGregor? No soy el tipo más grande, ni el más malo ni el más fuerte. Pero puedo decir, sin dudas, soy uno de los más duros en entrar al ring en mucho, mucho tiempo", dispara Enzo. "¿Sabes qué eres, Cass?
No eres más que una frase pegadiza...que YO escribí
" afirma Enzo.
Big Cass es entrevistado en backstage. "Nunca escuché a nadie hablar tanto rato sin decir nada", dice Cass, además de asegurar que lo destrozará el domingo. "Yo soy la estrella, soy donde está el dinero. Si cree que puede salir y hablar de cualquier cosa..." decía Cass cuando es interrumpido.
¡Enzo Amore ataca a Cass por la espalda!
Árbitros y personal interceden para separarlos.
- Bayley & Sasha Banks vs. Nia Jax & Alexa Bliss
Bayley y Nia inician la acción. Bayley responde con Dropkicks hacia la esquina, pero el poder de Nia hace que tome el control pronto. Double Dropkick hacia Nia, que no cae. Sasha finalmente la saca del ring con otra Dropkick. Nia sube y empuja a Bayley, que vuela contra la barricada. Antes de entrar al ring carga contra Bayley, estampándola contra la barrera. Al volver de comerciales, Sasha y Alexa están en el ring. Banks domina y busca la cuenta sin éxito. Nia ingresa con un Backbreaker y algunos Elbow Drops, pero no es suficiente. Continúa el dominio sobre Sasha, pero The Boss resiste. Sasha responde atacando a ambas oponentes. Bank Statement a Alexa, que se rinde.
Bayley & Sasha Banks derrotan a Nia Jax & Alexa Bliss.
Kurt Angle está hablando por celular, pero es interrumpido por Braun Strowman. El gigante se pregunta qué hará Angle si Roman Reigns no puede competir este domingo. Angle dice que puede, pero Strowman insiste que no, y que quiere saber cuál es la alternativa porque quiere competencia. El GM dice que probablemente nadie quiere luchar contra él esta noche, pero Strowman insiste. "Eres un hombre inteligente, algo se te ocurrirá", dice amenazante el monstruo entre hombres.
Cedric Alexander sale al ring y toma la palabra. Pide que salga Noam Dar ahora mismo, a quien mandará con un collarín junto a Alicia Fox. Dar sale y Alicia Fox, con collarín, regresa para acompañarlo.
- Cedric Alexander vs. Noam Dar
Cedric carga ni bien suena la campana. La acción pasa a ringside, Alicia se interpone entre ambos lo que aprovecha Dar para volver al ring. Alexander está dominando, Alicia lo distrae desde el borde del ring y Noam intenta aprovechar con Rollup. Cedric lo evita y conecta el Lumbar Check.
Cedric Alexander derrota a Noam Dar.
The Miz presenta su Miz TV, acompañado por Maryse, Curtis Axel y Bo Dallas. Miz habla mal de LaVar Ball y de Dean Ambrose. The Lunatic Fringe sale a escena y dice que después de la semana pasada pensó que no habría más Miz TV. Ambrose reta a Miz a un combate ahora mismo. Heath Slater, acompañado por Rhyno, los interrumpe. Pide una oportunidad titular, al haber sido quien cubrió a Miz la semana pasada. El Campeón Intercontinental le dice a Ambrose que le dará la revancha cuando él lo considere, y a Slater, simplemente que no pasará. Kurt Angle interrumpe a Miz. "Tu no decides dónde y cuándo compites. YO lo hago", afirma Angle. Miz lo reta: "¿Por qué no te encargas de tus asuntos privados con Corey Graves", lo cual no cae bien a Angle. Miz dice que le hará un favor, defenderá el título este domingo. Angle debe elegir su rival, Ambrose o Slater.
Angle dice que Miz defenderá su título ahora mismo contra Heath Slater. El ganador defenderá ante Dean Ambrose el domingo en Great Balls of Fire.
- Campeonato Intercontinental:
The Miz (c) vs. Heath Slater
Dean Ambrose se une a la mesa de comentaristas. Slater tiene un buen comienzo, buscando cubrir a Miz. El campeón lucha de camisa y pantalón, ya que no estaba preparado para el combate. Heath arrincona a Miz y lo castiga. Abre su camisa y conecta varios Chops. Inverted Atomic Drop y cuenta de dos que hace huir a Miz hacia sus aliados en ringside. Al volver de comerciales, Miz conecta su combo de Backbreaker y Neckbreaker. Miz castiga contra la cuerda inferior y saca del ring a Slater. Rhyno cuida a su amigo de Dallas y Axel. Miz estrella a Slater contra la barricada antes de devolverlo al ring para buscar sin éxito la cobertura. Miz aplica las patadas al estilo Daniel Bryan, pero Slater esquiva la última y responde. Neckbreaker de Slater y cuenta muy cerca de tres. Miz busca altura pero Slater va a por él y conecta un Powerslam. Axel se sube al ring para distraer al árbitro. Rhyno lo baja, Maryse distrae al Manbeast y es atacado por Axel y Dallas. ¡Skull Crushing Finale para Slater!
The Miz derrota a Heath Slater para retener el Campeonato Intercontinental.
Finalizado el combate, Dallas y Axel atacan a Slater. ¡Ambrose hace el salve! Dean busca el Dirty Deeds sobre Miz, pero el campeón escapa. The Miztourage castigan a Ambrose en conjunto.
Titus O'Neil habla con Apollo Crews sobre enfrentar a Braun Strowman esta noche. Crews no se ve muy confiado, pero Titus logra darle ánimos.
Goldust se encuentra en el medio del ring para presentar "The Shattered Truth". El video es una versión cinematográfica de su ataque a R-Truth la semana pasada. Al terminar, R-Truth se encuentra detrás de Goldust en el ring. ¡Truth lanza a Goldust contra el poste! El Dorado huye, tomándose el hombro golpeado.
Kurt Angle habla con
Sheamus & Cesaro
en backstage. Se le ocurrió una estipulación para su combate del domingo
ante The Hardy Boys: Iron Man Match de 30 minutos
. Cesaro quiere competir esta noche, pero no le interesa Braun Strowman, sino Finn Balor.
- Curt Hawkins vs. Seth Rollins
Hawkins habla antes del combate, preguntando a la gente quién cree que va a ganar, pero Seth o termina interrumpiendo y lanza el primer golpe. Suena la campana y en instantes Seth conecta su rodillazo.
Seth Rollins derrota a Curt Hawkins.
Finalizado el combate, Seth dedica palabras a Bray Wyatt. "Dices estar en todos lados, pero cada vez que quiero enfrentarte, no te encuentro en ningún lado..." dice Seth. Habla un poco más retando a Bray, a quien enfrentará este domingo.
Michael Cole presenta a Samoa Joe y Brock Lesnar, quienes responderán preguntas en vivo, pero desde estudios separados. Joe no acepta preguntas, Lesnar lo interrumpe. "Soy el campeón, tu no. El domingo entro y salgo como campeón y tu no tienes nada", declara Lesnar. Joe le recuerda que lo dejó inconsciente a él y su representante, Lesnar responde que es un cobarde. Joe se irrita pero Lesnar se muestra tranquilo. "Entiendo lo que tratas de hacer", dice el campeón. Samoa Joe también lista la gente que ha derrotado, como hacía Lesnar. Samoa Joe se quita el micrófono y los auriculares y sale a buscar a Lesnar por la arena. Brock Lesnar y Paul Heyman ríen mientras Joe camina por todos lados, buscándolo. Staff de WWE intenta detenerlo, pero el retador grita que se hartó de hablar. Kurt Angle y varios miembros de seguridad aparecen. Joe encuentra el estudio donde esta Lesnar, pero es detenido. Lesnar se muestra desafiante, pero Joe es retenido por los seguridad y no puede hacer nada.
- Mustafa Ali vs. Neville
El combate inicia luego de la pausa. Ali patea a Neville y aplica Headscissors. Con gran agilidad Mustafa aplica un Crossbody que casi le da la cuenta de tres. Ali busca altura, pero Neville lo ataca antes de que tome vuelo. Neville sube junto a él, busca un Superplex pero Ali cae de pie. Tornado DDT y cuenta de dos sobre Neville. Mustafa vuelve a buscar altura, esta vez Neville directamente lo empuja haciendo que se choque contra la barricada. Neville sigue atacando con agresividad a Ali en el ring. Ali evita un ataque contra el esquinero pero Neville responde veloz con un brutal Clothesline. Rings of Saturn y Ali se rinde.
Neville derrota a Mustafa Ali por sumisión.
Promo de Bray Wyatt desde el desierto.
Alexa Bliss es entrevistada en backstage. Dice que dejó ganar a Sasha para darle seguridad para el domingo. Charly Caruso no le cree y se lo dice, Bliss dice que no le importa lo que ella cree y por algo Charly sostiene un micro mientras ella lleva el campeonato.
Antes de iniciar el combate, salen los Hardy Boys para unirse a la mesa de comentaristas. Finn conecta patadas al inicio. Cesaro lo atrapa en el aire y aplica un Backbreaker. Finn responde con Chops. Balor se distrae con Sheamus, Cesaro aprovecha para pasar al ataque una vez más. Intercambian Chops y Uppercuts, Cesaro saca al rival del ring. Tras los comerciales, Cesaro aplica un Gutwrench Suplex pero no es suficiente. Cesaro sigue atacando pero Finn evita el pin. Finn toma la ofensiva y Cesaro baja del ring tras una Dropkick. Finn ataca entre las cuerdas y conecta una tremenda patada desde el apron. Slingblade a Cesaro al volver al ring. Elias Samson aparece con su guitarra, Cesaro aprovecha la distracción para aplicar un Pop up Uppercut. Cesaro busca altura, pero Finn lo baja con una Enziguri. Balor toma impulso pero Samson lo toma de la pierna. ¡Jeff y Matt Hardy van a por él! Sheamus se toma a golpes con Matt. Finn saca del ring a Cesaro y vuela sobre todos. Ataca a Samson y va a por Cesaro, pero el Cyborg suizo lo lanza contra el apron. Twist of Fate para Samson. Brogue Kick para Matt. Jeff vuela sobre Sheamus y recibe un brutal Uppercut. Dropkick para Cesaro y de nuevo al ring. Coup de Grace y cuenta de tres.
Finn Balor derrota a Cesaro.
Una ambulancia ingresa a la arena. Mientras, repetición del ataque de Braun Strowman a Roman Reigns la semana pasada. Braun Strowman sale al ring y habla sobre Roman Reigns. "Si Roman es tan terco como para estar en Great Balls of Fire, entonces se irá como se fue la semana pasada: en la parte de atrás de una ambulancia", amenaza Strowman. "Y en cuanto a esta noche, Roman Reigns no está aquí, pero yo quiero competencia. A quien hayas conseguido, Kurt Angle, envíalo ahora", cierra Strowman. Titus o'Neil sale y dice que normalmente no tendría problema en enfrentarl, pero esta noche será algo especial. El hombre que trae Titus le dará más competencia de la que tuvo Strowman en su vida y demostrará que los monstruos pueden ser derrotados. Apollo Crews sale a enfrentar a Strowman.
- Braun Strowman vs. Apollo Crews
Strowman domina desde el inicio y saca del ring a Apollo. Crews vuelve al ring y recibe más castigo. Strowman le grita a Titus y luego saca a patadas del ring a Apollo. Castiga a Strowman con la cuerda superior y conecta una Enziguri al segundo intento. Patea a Strowman hasta derribarlo. Apollo busca un Standing Moonsault pero Strowman lo lanza por los aires con sus piernas, provocando un golpe bastante aparatoso. Running Powerslam y cuenta de dos, interrumpida por el propio Strowman. ¡Otro Running Powerslam! Y otra cuenta que el monstruo abandona. Tercer Powerslam y ahora sí, cuenta de tres.
Braun Strowman derrota a Apollo Crews.
Finalizado el combate, Braun busca un cuarto Powerslam pero Titus saca a Apollo de las garras del monstruo. O'Neil entra al ring y encara a Strowman. ¡Titus ataca! Pero Braun responde rápido y lo derriba. Running Powerslam para Titus. Braun lanza a Apollo por encima de la barricada y se lo lleva entre el público y lo mete a la ambulancia. Golpea para que se lo lleven, la ambulancia prende las luces y la sirena...pero no arranca. Braun mira, desconfiado, y vuelve a golpear. Strowman sigue mirando y se acerca a la cabina.
¡Roman Reigns sale y ataca a Braun Strowman!
El gigante responde estrellándlo contra la ambulancia y la barricada para lanzarlo luego hacia el escenario. Reigns lo recibe con derechazos y lo envía conta la pantalla. ¡Spear a Strowman en el escenario! Caen sobre mesas y cosas, quedando los dos destruidos. Árbitros y personal de WWE van a socorrerlos.
Fin de la transmisión.
Archivado en:: BROCK LESNAR, Estados Unidos, RAW, Raw en vivo hoy, Resultados, RESULTS, Samoa Joe, United States, USA, USA Network, Ver WWE Raw, WRESTLING, WWE RAW, WWE Raw en Español, WWE WrestleMania