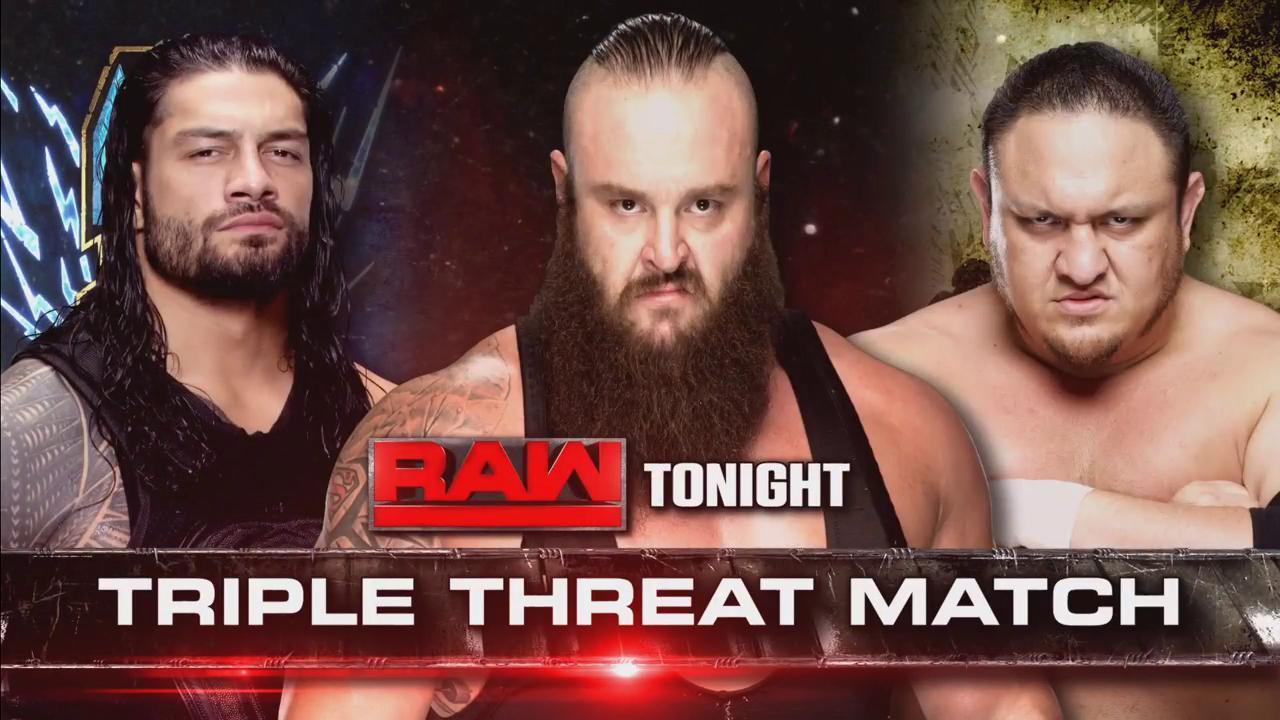 Kurt Angle abre el show. El GM da la bienvenida en su pueblo natal y la gente lo ovaciona. Adelanta parte del show: Big Cass vs. Big Show, Miz TV con Jason Jordan como invitado, y Roman Reigns vs. Braun Strowman vs. Samoa Joe.
Brock Lesnar interrumpe a Angle cuando estaba a punto de irse. Junto a Paul Heyman, suben al ring y rodean a Angle. "Entiendo la estrategia, veo lo que estás haciendo aquí. Quieres, necesitas, tienes que quitarle el Campeonato Universal a Brock Lesnar. ¿Por qué si no lo pondrías en una Fatal 4 Way en Summerslam?", dice Heyman. A continuación hace comentarios destacando aspectos de los tres rivales de Lesnar. Heyman cree que los retadores se unirán contra Lesnar primero, para luego luchar entre ellos, ya que The Beast no necesitar ser cubierto ni rendirse para perder el título.
"Si Lesnar pierde el título en Summerslam, deja WWE"
, asegura Paul. "Y yo me iré con él. Porque, Kurt Angle, te doy una noticia que no te gustará. Mi cliente, Brock Lesnar, no perderá su Campeonato Universal en Summerslam".
- The Hardy Boyz vs. Luke Gallows & Karl Anderson
Karl y Matt inician la acción. The Revival están en comentarios. Los Hardys dominan los minutos iniciales. Luke intenta intervenir pero recibe un Poetry in Motion. Al volver de la pausa, Gallows está golpeando a Jeff. Anderson evita que haga el relevo, pero Jeff lo esquiva en el esquinero y logra llegar a Matt. Running Bulldog luego de varios golpes contra el protector, pero no es suficiente. Side Effect y otra cuenta de dos. Karl evita el Twist of Fate, Luke golpea y buscan el Magic Killer pero Jeff lo evita. Twist of Fate para Gallows y Swanton Bomb para la cuenta de tres.
The Hardy Boyz derrotan a Luke Gallows & Karl Anderson.
The Revival increpan a los Hardy, y pronto se van a los golpes. Anderson y Gallows se suman a la acción, pero los empujan hacia abajo del escenario. Dos Twist of Fate para Dawson y Poetry in Motion hacia Anderson y Wilder.
Dean Ambrose es entrevistado en backstage sobre su combate la semana pasada junto a Seth Rollins. Dean admite que lo hicieron bien la semana pasada, como en los viejos tiempos. Cuando va a responder sobre volver con Rollins, el propio Seth aparece. Dice que fue especial, real, lado a lado luchando de nuevo. "Aún no confío en ti", dice Ambrose, pero acepta que una pequeña parte de él quiere lo mismo que el WWE Universe.
Cesaro y Sheamus se cruzan con Seth Rollins en backstage. Dicen que su historia es al revés, antes se odiaban pero ahora son amigos y la fuerza más dominante de WWE. "Tu y Dean vinieron a WWE como hermanos, lograron tanto juntos hasta que decidiste apuñalarlo en la espalda. Ahora Dean no confía en ti ni nadie", dice Cesaro. Los Campeones de Pareja siguen burlándose de Rollins, tratándolo de tipo solitario. Rollins los reta a cualquiera de los dos a un combate esta noche.
- Rich Swann, Cedric Alexander & Akira Tozawa vs. Tony Nese, TJP & Ariya Daivari
Tony y Cedric comienzan en combate. Nese detiene a Alexander para lucir sus músculos. Tras algunos derribos de Cedric, relevos para ambos lados. Swann demuestra gran agilidad ante Daivari y lo cubre sin éxito. Tozawa, con su hombro vendado, pasa a atacar a Daivari. Ariya golpea duramente el hombro de Akira, que se pone a discutir con Titus O'Neil. Tras la pausa, Daivari sigue atacando el hombro de Akira. Tozawa responde con un rodillazo y hace el relevo. Swann carga contra el recién ingresado TJP. Nese evita el pin sobre TJP, Alexander vuela sobre él en Crossbody. Cedric y Rich vuelan sobre TJP y Tony en ringside. Akira se lanza sobre Ariya en Suicide Dive. Intercambio de pins entre TJP y Swann. Relevo para Tozawa que TJP no ve, patada giratoria de Swann y Super Senton de Tozawa para la cuenta de tres.
Rich Swann, Cedric Alexander & Akira Tozawa derrotan a Tony Nese, TJP & Ariya Daivari.
Miz sale junto a Maryse y The Miztourage para realizar Miz TV, con Jason Jordan como invitado. Miz le pregunta por los abucheos que recibe, pero Jordan esponde que el propio Miz es experto en recibirlos. Miz ofrece su consejo a Jordan para hacerlo crecer. "Necesitas mi ayuda", asegura el Campeón Intercontinental. Jason agradece pero declina la oferta. Miz lo acusa de recibir un trato preferencial de parte de su padre. Jordan dice que nadie le regala nada, y prefiere fallar antes que juntarse con alguien como Miz. The Miz pasa a hablar mal de Angle, diciendo que su mejor momento pasó y que da lástima. Jason se levanta y dice que puede decir lo que quiera de él, pero si dice una palabra más sobre Kurt, se arrepentirá. Miz intenta atacarlo a traición, pero Jason lo esquiva y aplica un Suplex que lo hace caer sobre Dallas y Axel.
- Sheamus vs. Seth Rollins
Sheamus inicia mejor pero pronto Seth lo controla a patadas. Cesaro distrae a Seth, Sheamus aprovecha para ataca y estrellarlo contra la barricada. Rolling Senton desde la segunda cuerda para Rollins al volver de la pausa. Seth castiga con la cuerda superior, Sheamus lo atrapa luego y aplica Irish Curse Backbreaker. Intercambio de golpes que termina con Sheamus fuera del ring. Suicide Dive de Rollins. Flying Clothesline y Slingblade para Sheamus. Cesaro se sube al borde del ring pero Seth se deshace de él. Sheamus busca sorprenderlo pero Seth lo cubre con Roll Up.
Seth Rollins derrota a Sheamus.
Finalizado el combate, Cesaro ataca a Seth Rollins. Los Campeones de Parejas se unen contra Rollins. White Noise asistido sobre Seth. La gente corea "Queremos a Ambrose". Sheamus y Cesaro están a punto de irse, pero vuelven para seguir atacando.
¡Dean Ambrose hace el salve
! Carga contra ambos pero es dominado. Neutralizer y Brogue Kick para Ambrose.
Bray Wyatt sale a hablarle a Finn Balor. Tras una larga y críptica promo, se apagan las luces. Finn Balor aparece en el ring, de espaldas a Wyatt. Bray se ríe y le grita. Cuando se acerca, Finn lo sorprende con una Pele Kick. Dropkick en ringside que manda a Bray por encima de la barricada.
- Braun Strowman vs. Samoa Joe vs. Roman Reigns
Suena la campana y estallan los golpes. Strowman carga de esquina a esquina contra ambos oponentes y luego los saca del ring. Al volver de comerciales, Joe y Reigns atacan a Strowman y lo sacan del ring. Joe intenta sorprender a Reigns pero éste bloquea y ataca. Joe lo atrapa y aplica llave al brazo. Cambia de brazo para evitar que Reigns llegue a las cuerdas. Strowman saca a Joe y lo lanza contra la barricada. Reigns y Strowman van entre la gente e intercambian golpes. Joe aplica Coquina Clutch a Braun contra la barricada. Roman y Joe vuelven al ring. Reigns descarga una lluvia de Clotheslines contra el esquinero. Superman Punch a Joe en ringside. Prepara una Spear contra Braun pero el monstruo lo recibe con una patada al pecho. Clothesline para Joe, empujón a Reigns contra los escalones metálicos. Braun lanza a Roman hacia dentro del ring y mete los escalones. Joe lo ataca en ringside y aplica un Senton a Reigns, pero no logra la cuenta de tres. Joe coloca los escalones en la esquina. Coquina Clutch a Reigns, Braun carga contra ambos. Running Powerslam a Joe. 1...2..¡Reigns interrumpe el pin! Superman Punch para Strowman. Reigns luego lo golpea con los escalones y saca del ring. Spear para Joe. 1...2...¡3!
Roman Reigns derrota a Samoa Joe y Braun Strowman.
Enzo Amore habla con Big Show en el vestuario. Le pide disculpas por meterlo en este asunto con Big Cass. Amore dice que significa mucho para él que Amore lo haya ayudado. Show dice que no tiene problemas en luchar esta batalla, y Big Cass necesita aprender lo que es el respeto.
Elias canta contra la ciudad antes del combate. Elias toma la iniciativa y saca a Kalisto del ring. Elias sigue atacando luego de la pausa. Kalisto intenta responde pero recibe una Big Boot. Suplex y cuenta de dos sobre el enmascarado. Kalisto esquiva los golpes de Elias y responde con patadas. Springboard Senton y Hurricanrana, Elias responde rápidamente con el Drift Away y se lleva la victoria.
Alexa Bliss es entrevistada en backstage. La Campeona se muestra confiada para enfrentar a Bayley en Summerslam, y se burla de la derrota de Sasha Banks la semana pasada. Alexa dice que Bayley no tendrá quien la ayude esta noche contra Nia Jax.
Seth Rollins le agradece a Dean Ambrose por ayudarlo esta noche. Dean dice que Seth lo tenía todo planeado, y lo dejó en una posición en la que si no lo ayudaba sería mal visto. Sabe que Rollins responderá que haría lo mismo por él, y espera que así sea.
Bayley lanza los primeros golpes, pero no afectan a Nia. Jax la saca duramente del ring antes de la pausa. Al regreso, Bayley escapa de Nia y la empuja contra la esquina. Nia lanza a Bayley de cara contra la lona, haciéndola bajar del ring. El árbitro baja a chequear el estado de Bayley, mientras Nia se burla de ella imitando su peinado. Nia la castiga contra el esquinero, Bayley responde desde el piso. Bayley responde a pesar de tener mal un hombro. Neckbreaker y Running Knee a Nia contra las cuerdas, haciendo que caiga del ring. Aparece Alexa Bliss, Nia se distrae chequeando que esté bien tras su fallida intervención. Carga contra Bayley pero se choca contra los escalones metálicos. La cuenta del árbitro llega a diez antes de que Nia pueda regresar al ring.
Bayley derrota a Nia Jax por Count out.
Big Cass es entrevistado en backstage. Cass critica a Show por andar con Enzo Amore y se muestra confiado para su combate.
-----
Archivado en:: FREE, MONDAY NIGHT RAW, NOTICIAS, RAW, Raw en vivo hoy, Resultados, RESULTS, STREAM, STREAMING, Ver WWE Raw, WWE MONDAY NIGHT RAW, WWE RAW, WWE Raw en Español