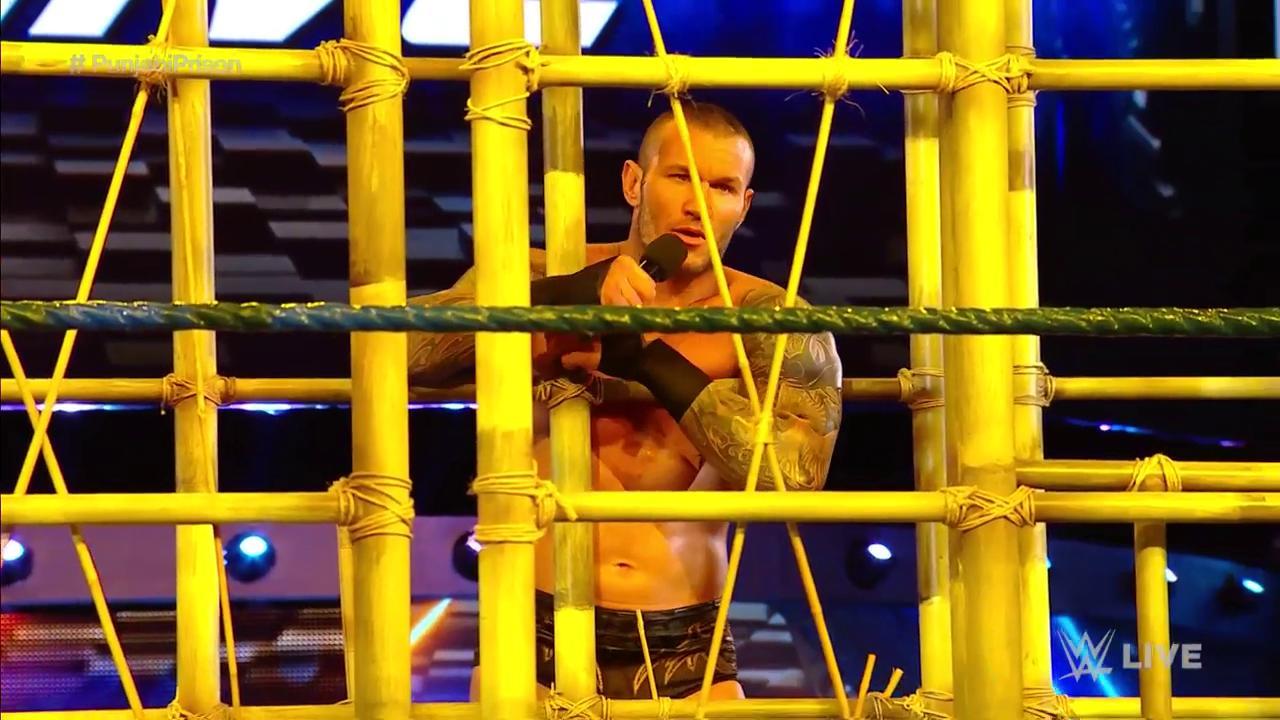 El show abre con la entrada de
Jinder Mahal
, quien es presentado por Los Hermanos Singh. Se puede ver como la prisión punjabi está sobre el ring. Jinder entra al ring y la estructura comienza a bajar.
Jinder le dice al público que contemplen la prisión Punjabi, mientras el público hace canticos patrióticos. Los hermanos explican las reglas, los luchadores deben salir de la primera estructura, pero las puertas de la primera estructura estarán abiertas por un minuto, y si logran salir de la primera fase, deben escalar la segunda estructura de la prisión para ganar el combate.
Jinder habla en punjabi, hasta que entra
Randy Orton
quien le dice al campeón que no es muy inteligente, debido a que está escogiendo estar encerrado en una jaula con Randy Orton. Randy comienza a escalar la estructura exterior de la prisión, mientras le dice a Jinder que él no tiene nada que perder.
Se anuncia que John Cena saldrá al ring para referirse a su combate contra Rusev en Battleground.
Se muestra a The Usos caminando hacia el ring.
Jimmy Uso vs. Kofi Kingston
Kofi llena a Jimmy a patadas, mientras Xavier toca el trombón al ritmo de los ataques de Kofi. Jimmy trata de escapar fuera del ring, y Kofi lo intercepta con un tope con giro. [Comerciales] Kofi llena a Jimmy a patadas, mientras Xavier toca el trombón al ritmo de los ataques de Kofi. Jimmy trata de escapar fuera del ring, y Kofi lo intercepta con un tope con giro. [Comerciales] durante los comerciales Jimmy acotó a Kofi sobre el borde del ring, y Jimmy consiguió la ventaja. Kofi consigue conectar a Jimmy con doble machetazo, busca Trouble in Paradise, pero Jimmy lo toma y lo estrella sobre el esquinero. Kofi contrataca con patada a la cabeza, ambos combaten sobre el esquinero, Kofi bota a Jimmy sobre la lona, Jey trata de intervenir pero Kofi consigue atacar a Jimmy, se lanza con plancha cruzada, pero Jimmy la revierte a un cradle y se lleva la victoria.
Jimmy Uso derrota a Kofi Kingston vía pinfall
El comisionado
Shane Mcmahon
habla con las mujeres que lucharan en Battleground. Charlotte dice que quiere enfrentar a Lana, todas menos Tamina quieren enfrentar a Lana. Natalya le da una idea a Shane sobre un combate entre Becky y Charlotte, lo que Shane apoya, por lo que hace oficial el combate.
Se muestra una entrevista de
Chad Gable
con Renee Young, como reacción a lo sucedido el día de ayer con su ex compañero
Jason Jordan
. Gable confiesa que no se esparaba para nada que Jason Jordan se revelaría como el hijo de Kurt Angle, también dice que Jordan se comportaba distante y diferente últimamente. Gable declara que ambos consiguieron muchas cosas juntos, por lo que apoya en todo a su amigo. Gable ve esto como una oportunidad para sobresalir por su cuenta.
Mike Kanellis/con Maria Kanellis vs. Sami Zayn
Sami comienza con la ventaja atacando con golpes y machetazos, Mike escapa del ring. El combate vuelve al ring, Mike consigue conectar algunas patadas, pero Sami contrataca con lazo al cuello, Sami luego lo lanza con suplex sobre el esquinero, Maria entra al ring distrayendo a Sami, Mike conecta a Sami con antebrazo y lo finaliza con michinoku driver para llevarse la victoria.
Mike Kanellis/con Maria Kanellis derrota a Sami Zayn
Llega
John Cena
al ring, que está adornado con las banderas de Estados Unidos y Bulgaria. Comienza a hablar sobre que Battleground será en la ciudad en la que Estados Unidos fue fundado, Filadelfia. Cena explica que para ganar el combate cada luchador debe agarrar la bandera de su país, y llevarla hasta la línea final que se encuentra en la parte superior de la rampa.
Cena dice que las personas recordaran que la bandera de los Estados Unidos ondeara victoriosa. Cena afirma que cualquier cosa puede pasar, le dedica unas palabras a su país, mencionando hechos históricos en los que la bandera ha estado en alto.
Cena levanta la bandera en alto, y de pronto llega
Rusev
quien lo ataca por la espalda, para después encerrarlo en el Accolade. Sin embargo Cena se levanta y estrella a Rusev contra a la esquina, pero Rusev no suelta a llave hasta que Cena pierde el conocimiento. Rusev toma la bandera de Bulgaria, y la levanta con orgullo.
AJ Styles está en camerino hablando con Shinsuke Nakamura, el japonés observa con atención el campeonato de Los Estados Unidos, y dice que si AJ llama él respondera.
Natalya se encuentra en la mesa de comentaristas
Becky Lynch vs. Charlotte Flair
Ambas comienzan intercambiando llaves, y movientes, permanecen parejas hasta que Becky consigue derribar a Charlotte, para después impactarla con patadas voladoras. Becky trata de castigar el brazo de Charlotte, pero la rubia consigue escapar fuera del ring.[Comercieales] Ambas intercambian antebrazos, Charlotte comienza a obtener la ventaja con una serie de machetazos. Charlotte busca la figura cuatro, pero Becky contrataca, ataca con patadas, lanza a Charlotte con suplex. Charlotte conecta con enorme bota a la cara de Becky, pero no es suficiente para llevarse la victoria. Charlotte busca el Moonsault, pero Becky esquiva y atrapa a Charlotte en el Dis-Arm-her hasta que hace que se rinda.
Becky Lynch derrota a Charlotte Flair vía sumisión
Hay muestras de respeto tras el combate, aparecen Tamina y Lana. Natalya ataca a ambas mujeres por la espalda, mientras que Lana y Tamina también entran a atacar. Natalya trata de encerrar a Tamina en el Sharpshooter, pero Lana la defiende y después Tamina la conecta con Superkick.
Naomi
es entrevistada en backstage, dice que a pesar de que no defenderá su campeonato, ella será la primera en felicitar a quien salga ganadora en Battleground. Aparece de pronto
Carmella
y le dice a Naomi que ella irá con su maletín, a donde la campeona vaya.
Comienza The Fasshion X Files. Fandango y Breeze están su oficina, Breeze dice que ambos necesitan ponerse serios y no estar culpando a fantasmas o extraterrestres. De pronto una brillante luz los ilumina, aparece un hombre con una caja y les pide que firmen, Tyler abre la caja, y encuentran a Tully completamente destrozado, junto a una nota que dice "Battleground" aparece un mensaje que dice que todo concluirá en Battleground.
Baron Corbin ataca a Shinsuke Nakamura durante su entrada, también aparece Kevin Owens y llega AJ Styles para defender a su compañero. Styles y Nakamura entran al ring, y desafían a Owens y a Corbin a que entren para pelear.
AJ Styles y Shinsuke Nakamura vs. Baron Corbin y Kevin Owens
Kevin Owens lleva a ventaja sobre Styles , pero AJ consigue darle el tag a Nakamura, quien entra atacando con patadas sobre Owens. Baron Corbin ayuda a su compañero para sacar a Shinsuke del ring, luego Owens lo aplasta con enorme sentón. Corbin y Owens se dedican a castigar a Nakamura sobre el esquinero. Nakamura consigue impactar a Corbin con patada en la cara, pero este lo toma y tira, para después impactarlo contra la lona con enorme Deep Six. Styles consigue el tag, se lanza sobre Owens con derechazos y una serie de golpes. Owens contrataca, le da el tag a Corbin, pero Styles contrataca con el Calf Crusher, pero Corbin se libera. Owens consigue el tag sin que AJ se dé cuenta, entra al ring e impacta a Styles con Pop-Up Powebomb para llevarse la victoria.
Baron Corbin y Kevin Owens derrotan a AJ Styles y Shinsuke Nakamura vía pinfall
Archivado en:: AJ Styles, Baron Corbin, Estados Unidos, Resultados, RESULTS, Shinsuke Nakamura, SMACKDOWN, SMACKDOWN LIVE, Ver WWE, Ver WWE SmackDown Live, WRESTLING