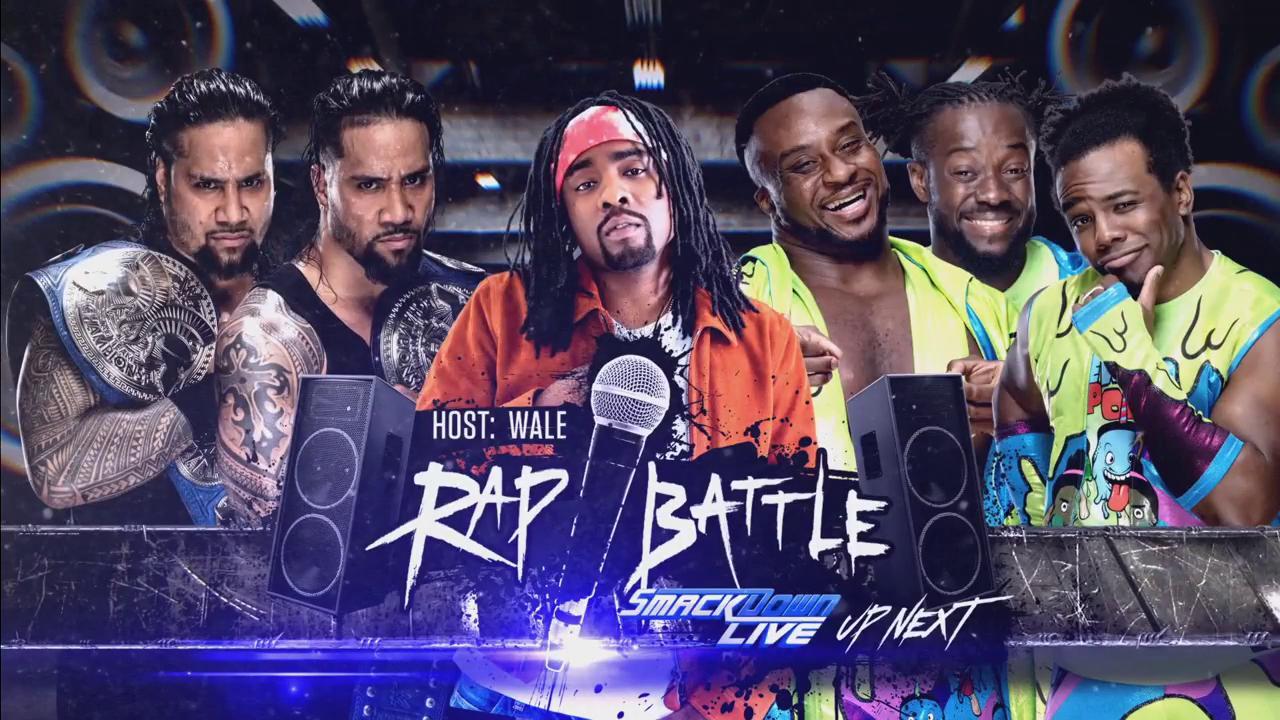 El show comienza con la llegada de
John Cena
. El público hace mucho ruido, hay reacciones mixtas como siempre pasa con Cena, y este anima al público para que hagan ruido. Cena menciona que está feliz porque es 4 de julio, le dedica unas palabras a Los Estados Unidos.
Cena habla de que mucha gente menciona que se ha vendido a Hollywood, o que es alguien part time, pero Cena dice que no es un par time, y es un agente libre porque no quiere que su tiempo sea limitado dentro de WWE. Agrega que noquera a todos, hasta que es interrumpido por el regreso de
Rusev
.
Rusev toma ofensa en lo dicho por Cena, ya que según él Cena menciona que Rusev no ha trabajado duro. Rusev reclama por no ver comerciales de su regreso.
Rusev dice que Los Estados Unidos son un chiste, al igual que el sueño americano. Cena defiende sus ideales, Rusev responde que los americanos solo se sientan a comer en sus casas en el día de la independencia, mientras que en Bulgaria se sale a marchar, a lo que la gente responde con canticos de "Yes!".
Cena desafía a Rusev a un combate de banderas. Pero el búlgaro responde que no pasará hoy día, sino que cuando él lo decida. .
El gerente general
Daniel Bryan
está en su oficina, habla con
Chad Gable
y detrás de él llega
AJ Styles
. Bryan les dice que se enfrenten en un combate uno contra uno, para decidir a un entrante a la batalla real del día de la independencia. Debido a que Kevin Owens venció a los dos en las últimas semanas.
AJ Styles vs. Chad Gable
Chad Gable comienza derribando a Styles al estilo amateur, sin embargo AJ se libera y lo conecta con patadas voladoras [Comerciales] Ambos forcejean en el esquinero, Styles se escurre y estrella la cara de Gable contra la esquine. AJ busca atacar con las cuerdas, pero Gable se las mueve, sube al esquinero, se lanza con Moonsault, pero AJ esquiva y ambos colisionan. Styles busca el clash, pero Gable lo revierte a una candado al tobillo, sin embargo Styles los revierte al Calff Crusher. Gable se libera, engancha a Styles y lo lanza con enorme suplex sobre la lona, aunque los dos caen a la lona. Styles sorprende a Gable con Phenomenal Forearm, y se lleva la victoria.
AJ Styles derrota a Chad Gable vía pinfall
Tras el combate Styles le muestra su respeto a Chad Gable.
Mojo Rawley
está backstage contemplando la camiseta de Hype Bros,
Zack Ryder
llega y trata de animarlo. Le comunica que ambos participaran en la batalla real del día de la independencia.
Se muestra como Carmella y James Ellsworth se dirigen al ring.
Carmella
llega al ring junto a
James Ellsworth
. James dice que es importante la celebración de Carmella que el 4 de julio.
Carmella se ríe de quienes creyeron que otra persona ganaría el maletín de Money in the Bank. Dice que tiene todo el poder, hasta que es interrumpida por la entrada de la Campeona femenina.
Naomi
felicita a Carmella por ser señorita Money in the Bank. Pero le dice que tendrá los ojos bien abiertos, le dirá que alguien más quiere hablar con ella y aparece Daniel Bryan.
El gerente general entra al ring y dice que prohíbe nuevamente la presencia de Ellsworth, más una multa de 10.000 dólares, más una suspensión de 30 días, y que si no sale ahora mismo, o si quebranta una regla, le quitará a Carmella el maletín de Money in the Bank. Carmella le dice a Ellsworth que se marche inmediatamente.
Combate por el Campeonato Femenino de SmackDown Live
Naomi (c) vs. Lana
La campeona sorprende a Lana con un sunset flip, la encierra en su sumisión, y Lana se rinde. Naomi se lleva la victoria en menos de 7 segundos.
Naomi derrota a Lana vía sumisión
Tras el combate aparece
Tamina
, la que llama a Lana a que vaya con ella.
Tratan de entrevistar a Shinsuke Nakamura, hasta que Corbin lo ataca por la espalda con el maletín, sin embargo Nakamura le responde con antebrazos. Árbitros deben separar a ambos.
Wale
se encuentra en medio del ring para presentar la batalla de rap, entran primero The Usos acompañados por varios tipos que usan las sudaderas de The Usos. The New Day entran con otras personas y trajes patrióticos.
Wale le dice ambos las reglas. Big E comienza, recibe harto apoyo del púbico, aunque The Usos también responden bien señalando que el torso de Big E parece que tuviera silicona, también hacen referencia indirectamente a los video de Xavier Woods con Paige, lo que obtiene una gran reacción.
Kofi se burla del de que los hermanos dejaron la universidad, y que están gordos debido a que comenzaron a luchar con camisas, además de decir que su barriga tapa su Winnie Do (pene). Xavier les dice que deberían volver a cargar las maletas de Roman Reigns. Lo que recibe una enorme reacción.
The Usos tratan de comenzar una pelea, por lo que Wale los descalifica, así que los ganadores son The New Day.
Se muestra en backstage que Randy Orton se dirige hacia el ring.
Se le da la bienvenida a
Aiden English
hasta que es interrumpido por Randy Orton.
Después de que Orton haga su pose, English le ataca por la espalda y luego lo azota con el micrófono en la cara sacando a Orton del ring.
Aiden English vs. Randy Orton
Tras comerciales se muestra que ha comenzado oficialmente un combate, Orton está fuera del ring, hasta que English baja y loa lanza por sobre la mesa de comentaristas, para después azotarlo contra la barricada. Orton prepara la mesa y le hace su DDT a English en el piso fuera del ring. El árbitro lo amenaza con descalificarlo, y Orton hace caso omiso y ataca a English con la escalera metálica.
Aiden English derrota a Randy Orton vía descalificación
La gente pide un RKO, y Orton conecta a English con este.
Llega Jinder Mahal con los hermanos Singh. Mahal toma el micrófono y dice que Estados Unidos es la casa del prejuicio y la tierra de la ignorancia.
Tye Dillinger
camina por backstage, hasta que aparece
Tyler Breeze
vestido como Renee Young. Dillinger está confundido, le preguntan por su estrategia para le batalla real, y él dice que es muy simple, solo se mantendrá alejado de las cuerdas. Fandango está disfrazado de trabajador, mientras observa a Dillinger por la espalda.
Renee Young entrevista a
Maria
y
Mike Kanellis
. Ambos dicen que sus mensajes tienen que ver con el amor, pero no todo el mundo obtiene le amor. La transmisión se corta, mientras Mike habla de que su esposa es la mujer más hermosa. Sami Zayn bota una tubería haciendo ruido, e interrumpiendo a Maria y Mike.
Sami Zayn es el primero en entrar a la batalla real.
Batalla Real del día de la independencia.
El ganador obtiene una oportunidad por el Campeonato de Los Estados Unidos
Comienza la batalla, cada hombre por su lado, todos se atacan.
Dolph Ziggler
es el primer eliminado por
Luke Harper
. Tyler Breeze y Fandango son eliminados por Erick Rowan. Mientras que Mojo Rawley consigue eliminar Konnor y Luke Harper, la eliminación de Harper es recibida con grandes abucheos. Mojo sorprende a Ryder por la espalda, y lo elimina. Mojo es eliminado por Tye Dillinger y AJ Styles. Quedan tan solo tres ahora, Zayn, Styles y Dillinger. Tye toma la ventaja, azota a AJ y Sami con el Tye Breaker, trata de eliminar a ambos, pero no lo consigue. Sami aprovecha un descuido de Dillinger y lo elimina. Zayn sorprender a Styles con suplex explosivo, busca su patada, pero AJ esquiva y consigue eliminar a Zayn con patada chilena.
AJ Styles gana la batalla real y se convierte en el retador número uno al Campeonato de Los Estados Unidos
Kevin Owens entra para atacar a Styles, pero este se lo quita de encima y celebra con el titulo de los Estados Unidos.
Archivado en:: Estados Unidos, FREE, GRATIS, gratis TV, LUCHA LIBRE, Resultados, RESULTS, SMACKDOWN, SMACKDOWN LIVE, STREAM, STREAMING, United States, USA, USA Network, Ver WWE SmackDown Live, WRESTLING