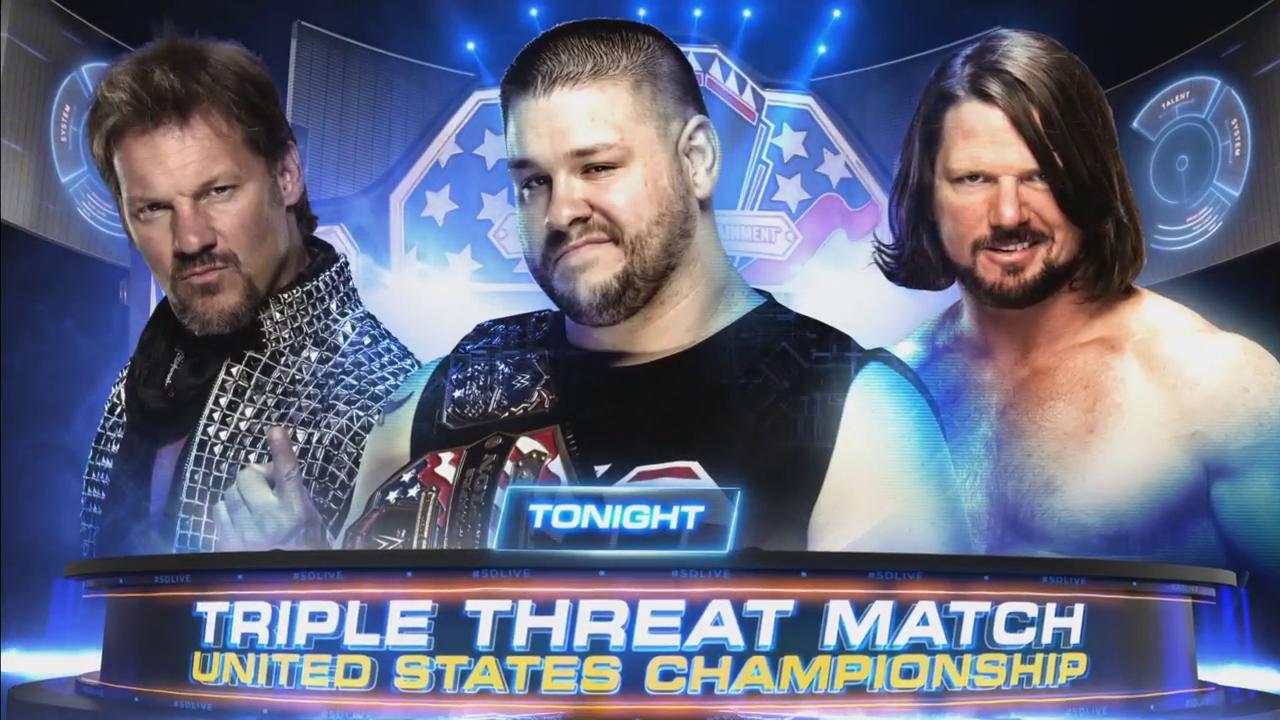 El show comienza con la entrada de
Kevin Owens
como nuevo campeón de Los Estados Unidos. Pero es sorprendido por
AJ Styles
, pero este mismo es interrumpido por el regreso de
Chris Jericho
. Styles dice que él es el siguiente en línea para una oportunidad titular.
Aparece el comisionado
Shane McMahon
quien crea una triple amenaza para esta noche por el campeonato de Los Estados Unidos. Owens defenderá ante Jericho y Owens.
Shinsuke Nakamura vs. Baron Corbin
Nakamura comienza con la ventaja, conectando fuertes golpes a Corbin, sale del ring y se dispone a atacar, pero Corbin lo recibe con un enorme lazo al cuello, lo que le ayuda a tomar el control del combate. [Comerciales] Corbin mete presión al brazo de Nakamura, pero este se libera dando golpes. Nakamura agarra a patadas a Corbin, el japonés busca terminar con el combate, pero Corbin consigue contratacar, lo engaña y lo planta sobre la lona con enorme Deep Six. Nakamura conecta con patada a la nuca de Corbin, le patea la rodillazo y después lo conecta con enorme rodillazo en la nuca, para finalmente rematarlo con la Kinshasa en toda la cara.
Shinsuke Nakamura derrota a Baron Corbin vía pinfall
Entrevistan a
Naomi
en backstage pero es interrumpida por la llegada de
Natalya
, quien le dice que traerá el respeto de vuelta al campeonato que Naomi ha convertido en un juguete. Luego aparece
Carmella
para amenazar a la campeona con el maletín de Money in the Bank.
Charlotte Flair y Becky Lynch vs. Lana y Tamina
Lana le da el tag a Tamina para escapar de las llaves de Becky. La irlandesa golpea a Tamina, pero esta la recibe y la azota contra el esquinero. Entra Lana y aplica suplex sobre Becky, luego entra Tamina pero Becky la patea con enzuiguiri, y le da el tag a Charlotte quien llena de machetazos a Tamina, pero ella contrataca con superkick entra Lana con el tag, pero Charlotte la impacta en la cara con bota para darle la victoria a su equipo.
Charlotte Flair y Becky Lynch derrotan a Lana y Tamina vía pinfall
Tras el combate Tamina se queda mirando a Lana, le grita desde ringside y le dice que venga.
Se recapitulan los hechos sucedidos durante el combate de la Prisión de Punjabi en Battleground.
El campeón de WWE
Jinder Mahal
entra al ring. Habla de cómo destrozó el legado de Randy Orton. Mahal es interrumpido por la llegada de
John Cena
.
Cena tiene un apoyo casi unánime del público, Mahal dice que él le dirá todo lo que ha hecho, pero Cena le dice que no iba a decirle nada de eso, porque la va a dar las felicitaciones, debido al respeto. Sin embargo dice que él es John Cena, y no le importa si tiene a un gigante y a otros que le ayuden, lo que significa que él entrara a Summerslam para derrotarlo por el Campeonato de WWE.
Llega el gerente general
Daniel Bryan
quien felicita a ambos, pero que desafortunadamente para Cena él no pacta los combates, sino que el gerente y el comisionado lo hacen. Bryan anuncia que la próxima semana Cena se enfrentara a Shinsuke Nakamura, y el ganador enfrentará a Jinder Mahal por el campeonato de WWE.
Kevin Owens habla con Shane McMahon en su oficina. Se queja por la triple amenaza en la que fue involucrado, algo que no es correcto, pero Shane le dice que es correcto.
Aiden English
está en el ring y comienza a cantar. Tras esto aparecen
Maria
y
Mike Kanellis
Aiden English y Mike Kanellis/con Maria Kanellis vs. Sami Zayn y Tye Dillinger
Dillinger y English comienzan, Tye obtiene la ventaja y le da el tag a Sami [Comerciales] Durante comerciales English y Kanellis consiguieron el control del combate, ambos se dedican a castigar a Sami. Sin embargo Dillinger consigue el tag, entra azotando a Mike con lazos al cuello, y después lo conecta con diez golpes en la cara. Zayn consigue el tag rápidamente, y con la ayuda de Dillinger conecta la Helluva Kick para llevarse la victoria.
Sami Zayn Y Tye Dillinger derrotan a Aiden English y Mike Kanellis/con Maria Kanellis vía pinfall
La entrada de
The New Day
es interrumpida por
The Usos
, quienes atacan a los nuevos campeones. Los hermanos se dedican a castigar a Xavier Woods, y Kofi Kingston, no se ve a Big E por ningún lado. Árbitros llegan para detener la paliza.
Shinsuke Nakamura es entrevistado sobre su próximo combate contra John Cena. El japonés dice que Cena no podrá verlo, y que él será quien verá a Jinder Mahal en Summerslam.
Combate Triple Amenaza por el Campeonato de Los Estados Unidos
Kevin Owens (c) vs. Chris Jericho vs. AJ Styles
Styles y Jericho se unen para sacar a Owens del ring, ambos comienzan a combatir entre ellos. Owens entra y saca a Styles, Jericho patea a Owens, y lo impacta con patadas voladoras. Styles vuelve a entrar, saca Jericho del ring, pero Owens lo azota con enorme lazo al cuello. Owens toma el control del combate. Styles captura a Owens con el Calf Crusher, pero Jericho aplasta a ambos con el Lion's Sault.[Comerciales] Jericho y Styles intercambian ataques, se van al esquinero, Owens agarra a Jericho pero este se zafa, y busca las murallas, sin embargo Owens contrataca con enorme antebrazos. Styles saca a Owens del ring, y se lanza con una 450 desde las cuerdas. Jericho se recupera, y aplica las murallas sobre Styles, sin embargo Owens interrumpe, y Jericho lo encierra a él en las murallas. Jericho suelta a Owens, y conecta rápidamente a Styles con Codebreaker, pero este aguanta y levanta el hombro antes de la cuenta de tres. Los tres intercambian ataques, y quedan tirados sobre la lona. Jericho interrumpe el Phenomenal Forearm, Owens se cuela y conecta Jericho con el Pop Up Powebomb, pero este levanta el hombro antes de la cuenta de tres. Owens aplasta a Jericho con Plancha Bullfrog, pero Styles entra y saca a Owens del ring, para cubrir a Jericho, y así recuperar el campeonato de Los Estados Unidos.
AJ Styles derrota Chris Jericho y Kevin Owens vía pinfall para convertirse nuevamente en campeón de Los Estados Unidos
Tras el combate Owens toma el micrófono, dice que esto no es justo que lo obligaran a defender el campeonato en una triple amenaza, ni que Styles le robara la victoria, y la gente lo odio porque él sea mejor que ellos. Sin embargo dice que la próxima semana, quiere su revancha en un combate mano a mano.
Archivado en:: FREE, LIVE, ONLINE, Resultados, RESULTS, SMACKDOWN, SMACKDOWN LIVE, SPORTONLINEHD, United States, USA, USA Network, Ver WWE SmackDown Live, WRESTLING