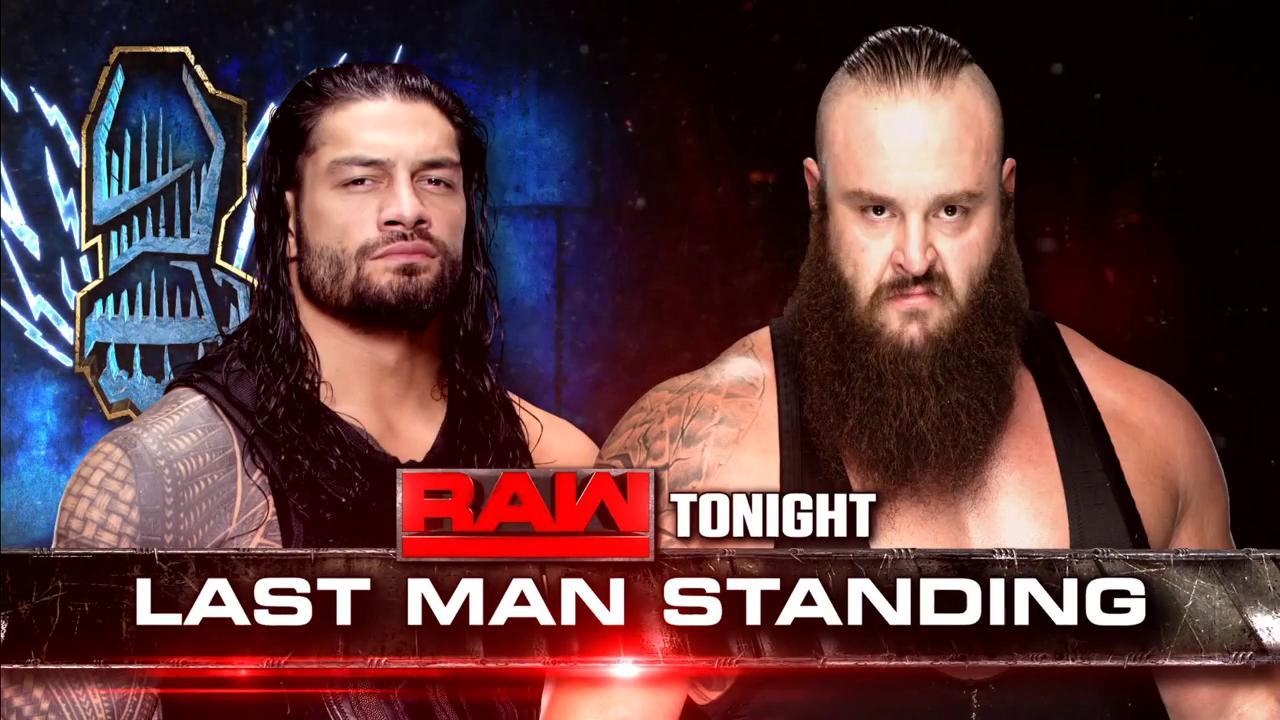 The Miz abre el show acompañado por Maryse y The Miztourage. Dice que Monday Night Raw no iniciará hasta tener lo que quiere. Lo que quiere, es que el hijo ilégitimo de Kurt Angle, Jason Jordan, salga ahora mismo. "Que salga para terminar lo que él empezó", dice Miz.
La música que suena es la de Kurt Angle. El General Manager sale y la gente corea "You suck". "Desafortunadamente, mi hijo Jason Jordan no será tu invitado esta noche", anuncia Angle. Agrega que Jordan tiene un combate esta noche contra Curtis Axel. El invitado de Miz TV será otro:
Brock Lesnar
.
El Campeón Universal entra al ring acompañado por Paul Heyman. Miz manda a callar a Heyman y dice que este es SU show. Miz pregunta con Axel y Dallas como protectores delante de él. Asegura que Lesnar perderá el título en Summerslam. Miz recuerda las palabras de Heyman, que si Lesnar pierde abandonará WWE. "Si fuera un apostador...apostaría por Roman Reigns. Apostaría por Braun Strowman. Apostaría por Samoa Joe", dice Miz, y la gente explota. Finalmente, Miz le da la palabra a Heyman. Paul pregunta si Miz y Maryse hacen juegos de roles, porque él está muy metido en eso. "Tu eres Roman Reigns", le dice a Miz. "Tu, mirate, todo listo para luchar, tus puños cerrados, todo intenso. Tu eres Samoa Joe", dice a Bo Dallas. "Y tu, con tu barba...tu eres Braun Strowman", dice Curtis Axel. "En este pequeño juego de roles, Brock Lesnar les dará un adelanto de Summerslam". ¡Lesnar carga contra Miztourage! German Suplex para Miz. German Suplex para Axel y Dallas luego. F5 para Axel, Dallas y otro para The Miz.
- Seth Rollins vs. Sheamus
Seth toma la iniciativa atacando a Sheamus. La acción pasa a ringside donde sigue castigando a Sheamus. De nuevo al ring se lanza sobre él y busca la cuenta, sin éxito. Sheamus carga a Seth y lo lanza contra el apron del ring. Al volver de la pausa, Sheamus aplica sus golpes al pecho de Rollins. Seth esquiva una Brogue Kick y luego intercambia patadas con Sheamus. Sheamus busca altura, pero Rollins va a por él. Frankensteiner desde las alturas y Superkick. Sheamus escapa justo de la cuenta de tres. Seth busca altura, Cesaro lo distrae y Sheamus aprovecha para cubrirlo.
Sheamus derrota a Seth Rollins.
Finalizado el combate, Seth se lanza en Suicide Dive sobre los Campeones de Parejas. Sheamus y Cesaro se imponen y lo lanzan contra la barricada. Lo meten al ring y le aplican un White Noise asistido.
Dean Ambrose habla con Seth Rollins en backstage. "Te dije que no hicieras eso, ahora parezco un idiota", se queja Dean. Seth le responde que lo es, y le pregunta qué tiene que hacer para demostrarle que no es el mismo tipo que antes. Dean mantiene que quiere seguir solo.
Jason Jordan sale al ring para su combate con Curtis Axel. Sin embargo, en backstage Kurt Angle chequea el estado de Curtis Axel, quien por el ataque de Brock Lesnar no se encuentra en condiciones. Angle se cruza con un luchador y le dice que salga ya mismo para combatir.


- Jason Jordan vs. Jean Pierre Goulet
Jordan domina con facilidad. Goulet responde con un par de golpes pero recibe un tremendo Suplex. Jason carga contra él en el esquinero y aplica un Neckbreaker para la cuenta de tres.


Jason Jordan derrota a Jean Pierre Goulet.
Bayley es entrevistada en el ring. Antes de su respuesta, se repite el momento en que se lesionó en su combate ante Nia Jax. Bayley dice que se enoja de pensar en ese momento. Sabía que algo estaba mal, pero tenía que terminar el combate para ser considerada una amenaza para Alexa Bliss, dice Bayley. Agradece el apoyo de los fans, que la han hecho sentir mejor. Mientras dice esto, fuertes abucheos se escuchan desde el público. Bayley dice que Sasha Banks es quien merece enfrentar a Alexa Bliss en Summerslam.
- Sasha Banks vs. Alicia Fox vs. Emma
Alexa Bliss se une a la mesa de comentaristas. Sasha saca a Emma del ring, Alicia la sorprende buscando el pin. Emma saca a Sasha y la castiga duramente de espaldas contra el apron del ring. Evita a Alicia y la patea. Con cierta dificultad busca un pin sobre Alicia que no llega a tres. Fox ataca y aplica Suplex con puente para la cuenta de dos. Sasha aplica Shining Wizard a Emma. Sasha sigue atacando con rodillazos, pero Emma pasa a controlar el combate. Busca varias veces la cuenta sobre Alicia, hasta que Sasha la saca del ring. Alicia soprende a The Boss con un pin, pero no es suficiente. Bank Statement, Emma ataca a Sasha pero termina recibiendo ella el Bank Statement, y se rinde.
Sasha Banks derrota a Alicia Fox y Emma.
Sasha Banks luchará la próxima semana para definir la retadora de Alexa Bliss en Summerslam.
Braun Strowman es entrevistado sobre su combate con Roman Reigns esta noche. El monstruo dice que disfruta ver a Roman sufrir. "Ya rompí su cuerpo. Hoy romperé su espiritu, y en Summerslam seré campeón", asegura Strowman.
Enzo Amore sale al ring y presenta a Big Show. Karl Anderson y Luke Gallows los interrumpen para retarlos.
- Big Show & Enzo Amore vs. Karl Anderson & Luke Gallows
Al volver de la pausa Gallows carga contra Enzo, pero no consigue la cuenta de tres. Rodillazos de Anderson y otra cuenta en dos. Karl domina pero falla un ataque, chocando con el esquinero. Luke evita que Enzo haga el relevo. Big Cass se acerca al ring durante el combate. Big Show se distrae, y recibe una patada de Gallows. Buscan el Magic Killer pero Enzo escapa, buscando el pin sobre Gallows. Karl lo patea y lo cubre.
Karl Anderson & Luke Gallows derrotan a Big Show & Enzo Amore.
Big Cass ataca a Big Show. Amore vuela en Suicide Dive sobre Cass. El gigante lo controla y estrella contra la barricada. Cass persigue a Enzo por ringside, pero Show lo sorprende con un KO Punch.
- Cesaro vs. Dean Ambrose
Comienzo parejo. Cesaro tiene un mejor comienzo, poniendo en aprietos a Ambrose con varios intentos de pin. Cesaro golpea a Dean contra las esquinas, aplicando duros Uppercuts. Dean responde y descarga golpes en la esquina, pero Cesaro lo carga y estrella contra el protector. Swinging Neckbreaker de Dean y Clothesline para sacar a Cesaro del ring. Ambrose vuela sobre él y lo devuelve al ring. Sheamus lo distrae y Ambrose lo encara. Cesaro aprovecha y aplica un brutal Uppercut. Tras los comerciales, la acción sigue en el ring. Cesaro busca altura pero Dean lo detiene. Forcejean en las alturas hasta que Dean aplica un Superplex. Backbreaker de Cesaro y cuenta de dos. El suizo castiga con golpes de antebrazo la espalda de Dean. Más castigo para la espalda de Dean en el medio del ring. Ambrose escapa y responde con golpes rápidos. Tremendo Uppercut y cuenta de dos. Dos Gutwrench Suplex y otra cuenta sin éxito. Busca el Neutralizer pero Dean escapa. Cesaro escapa del Dirty Deeds y busca el Sharpshooter. Dean lo evita golpeando desde la lona. Ambrose busca un Suicide Dive pero Cesaro lo recibe con un gran Uppercut. Otra cuenta de dos. Lluvia de golpes de Cesaro que Ambrose responde con Lunatic Lariat. Busca el Dirty Deeds pero Sheamus lo distrae. Sharpshooter para Ambrose en el medio del ring. Dean llega a la cuerda con gran esfuerzo. Dean lo saca del ring y vuela con un codazo hacia ringside. Ambrose se distrae con Sheamus, pero logra revertir el pin y cubrir a Cesaro.
Dean Ambrose derrota a Cesaro.
Sheamus ataca a Ambrose ni bien suena la campana. Seth Rollins sale a hacer el salve. Cesaro va a por él pero Rollins se lo quita de encima y carga contra Sheamus. Seth espera a que Dean se levante, y ambos se quedan mirando mientras la gente los ovaciona. Ambrose extiende el puño para hacer el saludo de The Shield. Pero Seth se va del ring.
Akira Tozawa, Titus O'Neil y Apollo Crews hablan en el vestuario. Neville les arruina la fiesta, pero no viene a pelear. Cuestiona si Tozawa es competencia para él.
- Ariya Daivari vs. Akira Tozawa
Titus O'Neil se une a la mesa de comentaristas. Daivari ataca con agresividad a Tozawa, buscando lastimar su hombro. Tozawa responde y saca del ring a Daivari. Suicide Dive y de nuevo al ring, pero la cuenta no llega a tres. Akira busca altura tras un Suplex y aplica un Senton Bomb para vencer a Daivari.
Akira Tozawa derrota a Ariya Daivari.
Roman Reigns es entrevistado por Renee Young. Roman dice que no vio Miz TV, y no le importa lo que hace Brock Lesnar, si se queda o se va. No le importó retirar a Undertaker, no le importará hacer que Lesnar se vaya. Reigns asegura que vencerá a Braun Strowman y será campeón en Summerslam.
- Mickie James vs. Nia Jax vs. Dana Brooke
Alexa Bliss se une a la mesa de comentaristas. Jax domina con su fuerza, James ataca con patadas pero es usada como ariete contra Dana. Dana y Mickie intercambian ataques después de deshacerse de Nia. Jax arrolla a Mickie y la saca del ring. Nia Jax destroza a Dana y Mickie casi le roba el pin. Nia la saca del ring, Dana intenta sorprenderla pero Jax aplica Leg Drop. Con la misma pierna cubre a Dana y se lleva la victoria.
Nia Jax derrota a Mickie James y Dana Brooke.
Nia Jax se enfrentará a Sasha Banks la próxima semana para definir la retadora de Alexa Bliss en Summerslam.
Promo de Goldust.
Big Cass habla con Kurt Angle. El GM propone un combate para Summerslam: Big Cass vs. Big Show, con Enzo Amore suspendido en una jaula de tiburones.

Bray Wyatt vs. Finn Balor, confirmado en Summerslam.
Braun Strowman vs. Roman Reigns
Strowman no espera y va a por Reigns cuando se acerca al ring. Intercambian golpes y van al cuadrilátero. Braun golpea y golpea a Roman. Al volver de la pausa, sigue el intercambio en el ring. Reigns aplica Clotheslines sin cesar contra la esquina. Reigns usa los escalones metálicos para derribar a Strowman, y lo golpea con ellos mientras está en la lona. Braun busca el Powerslam pero Reigns responde y aplica un Superman Punch. Tremenda Dropkick de Strowman a Reigns. Braun carga pero Roman lo esquiva y hace que el gigante se estrelle contra el poste y caiga del ring. Driveby de Reigns. Roman saca una mesa, busca otro Driveby pero recibe un Clothesline. Roman descarga puñetazos contra Braun en el ring y lo carga. ¡Samoan Drop sobre la mesa! No es suficiente para destruir al monstruo. Reigns carga hacia Strowman, pero Braun le lanza con una silla de escritorio por la cabeza. Reigns se levanta justo a tiempo. Se van a los golpes entre el público, hasta llegar a la mesa de comentaristas, sobre la cual Roman golpea la cabeza Braun. Driveby en la rampa. Strowman destruye a Reigns contra la pantalla. Braun desarma la mesa de comentaristas. Reigns aplica un Superman Punch. Y otro más, pero Braun no cae. Busca una Spear pero Strowman lo detiene con una patada. ¡Tremenda Spear de Reigns! Roman cargó desde la rampa hacia ringside para lanzarse sobre Braun. De entre el público aparece Samoa Joe y le aplica su Coquina Clutch a Roman Reigns. A la cuenta de ocho, Strowman se levanta. Roman Reigns sigue tirado.
Braun Strowman derrota a Roman Reigns.
-----
Archivado en:: MONDAY NIGHT RAW, RAW, Raw en vivo hoy, Resultados, RESULTS, STREAMING, Ver WWE Raw, WWE MONDAY NIGHT RAW, WWE RAW, WWE Raw en Español