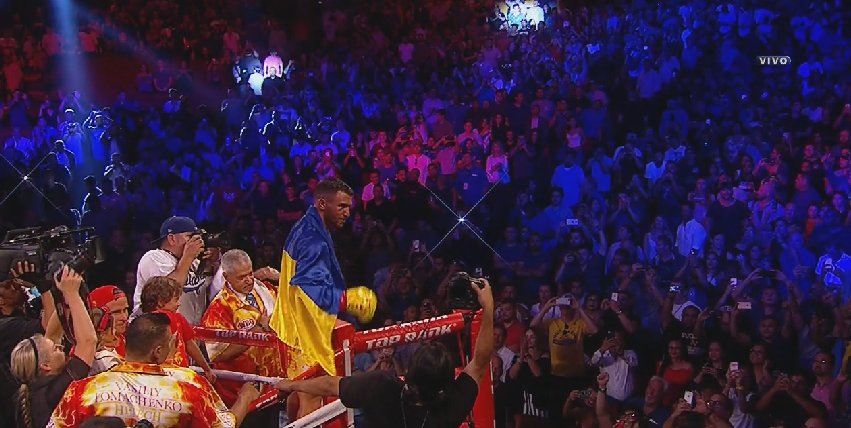 Vasyl Lomachenko vs. Miguel Marriaga - WBO junior lightweight championship, 12 rounds
Round 1
- Slow start to the opening round. A bit of a feel out process, with Lomachenko mostly jabbing and measuring his opponent. Marriaga landed a decent head-body combo, but then ate a sharp series of punches against the ropes towards the latter part of the frame. Lomachenko connected on a stiff body shot, as well.
10-9 Lomachenko
.
Round 2
- Lomachenko stalking Marriaga again, going upstairs with the right hook before heading to the midsection. His hands are just so fast and free flowing. Sweeping left glances across Marriaga's face. Clubbing right for Marriaga is there but he's getting outlanded comfortably already. That jab is on point for Lomachenko, as usual.
20-18 Lomachenko.
Round 3
- Beautiful straight left from Lomachenko. Body shot scores for the champion. Marriaga swings and misses. Lomachenko showing great defense, then gets inside and connects on an uppercut. Lomachenko doing some taunting and then he drops Marriaga with a straight left. Marriaga gets up and then Lomachenko has Marriaga come to him in a neutral corner. Lomachenko is showboating. Marriaga can't do anything.
30-26 Lomachenko.
Round 4
- Lomachenko comes out on the attack and stings Marriaga with a left uppercut. Marriaga is just getting schooled and there's nothing he can do about it. This is what was expected, to be honest. Two more punches get past Marriaga's guard. Body shot lands for Marriaga but Lomachenko answers back right away. The footwork is just astonishing. Uppercut for Lomachenko and he's bleeding from an accidental clash of heads. Uppercut-right hook combo for Lomachenko. It's too easy for him.
40-35 Lomachenko.
Round 5
- Right hook by Lomachenko and he may have hurt Marriaga. He continues to pressure and walk the Colombian down. Marriaga avoids a slew of punches and then Lomachenko pats him on the head. Loma goes downstairs and then quickly goes upstairs. Another uppercut connects for Lomachenko. Sharp jab from Lomachenko. Marriaga is surviving but not doing much else.
50-44 Lomachenko.
Round 6
- Good right to the body by Marriaga. Three-punch combination is there for Lomachenko. Marriaga complains he was hit on the back. Ref doesn't seem to buy it. Lomachenko patting Marriaga on the top of the head like he's his son. Then he does an Ali Shuffle. Lomachenko doubles up to the body, jars Marriaga with another shots. Marriaga is hurt. Lomachenko is giving him no space.
60-53 Lomachenko.
Round 7
- Lomachenko probably should just get him out of there and let everyone go home. These body shots are brutal. He's just straight-up bullying him. Marriaga eats another right hook. Two uppercuts by Lomachenko. Referee is taking a close look. Good lord what a body shot. Lomachenko is pouring it on and Marriaga is wobbly. More punches in bunches. Marriaga is staying upright but barely. Lomachenko may have accidentally hit himself on an uppercut. Straight left to the body, bolo punch, and then another left behind the ear sends Marriaga down. He easily beats the count but I don't see the point in letting this continue.
70-61 Lomachenko.
It's over. Fight was stopped between rounds.
Vasyl Lomachenko (9-1, 7 KOs) def. Miguel Marriaga (25-3, 21 KOs) by RTD-7
-----
Archivado en:: BOXEO, Boxeo en Vivo, Boxing, BoxNation, GRATIS, gratis TV, HBO BOXING, Resultados, RESULTS, STREAM, STREAMING, United States, Vasyl Lomachenko